SYMPHONITY reveals artwork for "Marco Polo: The Metal Soundtrack"
Donnerstag, März 3, 2022
This is the front cover artwork from the upcoming SYMPHONITY conceptual album "Marco Polo: The Metal Soundtrack" (out on May 20th), created by Dušan Marković (Dragony, FireWölfe, Jag Panzer) and showing a battle-ready and fierce horde of mongolian warriors on horseback.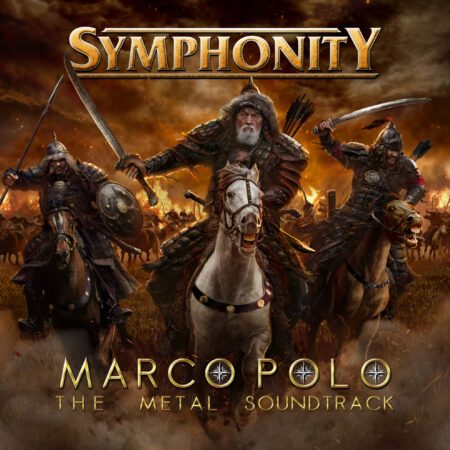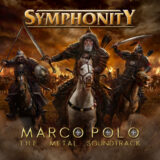 SYMPHONITY – new album annoucement
Donnerstag, Februar 24, 2022
We are proud to announce the third studio album by Symphonic Power Metallics SYMPHONITY called "Marco Polo: The Metal Soundtrack" which will be released on May 20th. The album will be released also in Japan (May 18th) and USA (June 24th).

The new release is a conceptual album which tells the life story of Venetian merchant Marco Polo whose travels to the Far East became legendary. From the musical side, it's SYMPHONITY's hardest, fastest and the most symphonic album so far. Moreover, it is spiced with many ethnic instruments from the Middle and Far East which gives a specific sound to each of the songs. On the other hand there are also some ballads on the album. So as a whole, it sounds balanced and colorful.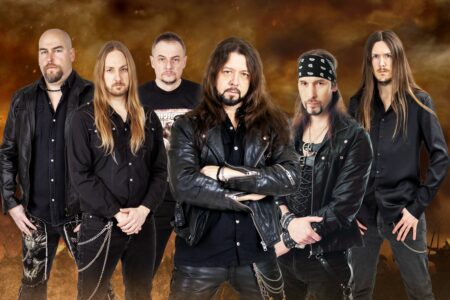 SYMPHONITY release second single & videoclip
Freitag, Mai 29, 2020
Marco Polo – Dreaming Of Home is SYMPHONITYs second single and videoclip with the refined new line-up, featuring Konstantin Naumenko (Sunrise) and Mayo Petranin (ex-Signum Regis) on vocals.

Lyrics for this song were pinned down by no other than our very own Billy Jeffs of MEMORIES OF OLD.

The song was mixed by Mikko Karmila & mastered by Mika Jussila at Finnvox Studios, Finland (NIGHTWISH, STRATOVARIUS).

The audio version is available on all major digital streaming & download sites (for examples click HERE).



SYMPHONITY are:
Konstantin Naumenko – Lead Vocals
Mayo Petranin – Lead Vocals
Libor Křivák – Guitars, Keyboards
Tomáš Sklenář – Bass
Radim Večeřa – Drums
Guests:
Sergio Meis – Piano

Follow SYMPHONITY:
www.symphonity.com
www.facebook.com/symphonity
www.instagram.com/symphonity_official
Dreaming Of Home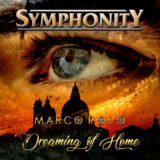 New SYMPHONITY single & video: Marco Polo (part 2) – Crimson Silk
Freitag, November 29, 2019
SYMPHONITY are back with their first single and videoclip in the new line-up with both, Antonio Abarte (PERSEUS) and Mayo Petranin (ex-SIGNUM REGIS), on lead vocals.

"Crimson Silk" features the guest musicians Marek "Ashok" Šmerda (CRADLE OF FILTH), Herbie Langhans (AVANTASIA) and Ladislav Šiška.

The production as well as the arrangements were handled by Libor Křivák. The song was mixed by Mikko Karmila & mastered by Mika Jussila at the Finnvox Studios, Finland (NIGHTWISH, STRATOVARIUS).

Finally, the amazing cover artwork was done by Dušan Marković.


The audio version is available on most major digital streaming & download sites, e.g.:
Bandcamp
Apple Music/iTunes
Amazon.de
Amazon.co.uk
Amazon.fr
Amazon.it
Amazon.es
Amazon.com
Spotify
Deezer
SYMPHONITY are: 

Antonio Abate – Lead Vocals 

Mayo Petranin – Lead Vocals 

Libor Křivák – Guitars, Keyboards 

Tomáš Sklenář – Bass 

Radim Večeřa – Drums
Follow SYMPHONITY:
Homepage
Facebook
Instagram
Crimson Silk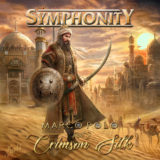 SYMPHONITY announce second singer!
Donnerstag, März 14, 2019
Symphonity had two singers for the most of the time in the past and there is no reason to change it. Since Antonio Abate came aboard for Olaf Hayer, it is now time to announce that Mayo Petranin (ex-Signum Regis) joined the band to fill in the position of Herbie Langhans.

Libor comments: "I have known Mayo for many years, he's a nice and kind person – and very good singer of course. It's great that we can work together now."

The current line-up is as follows (from left to right):
Radim Večeřa (drums), Antonio Abate (lead vocal), Tomáš Sklenář (bass), Mayo Petranin (backing and lead vocals), Libor Křivák (guitars)


SYMPHONITY – King Of Persia
Dienstag, August 30, 2016
The Czech Republic has until now never been a shining light on the international Heavy Metal scene. Now and again a band would appear but then disappear again shortly afterwards. That, however, does not apply to SYMPHONITY, a union of talented Czech, Slovakian and German musicians who have just recorded their third album, "King Of Persia". The band can be classified in the classical-symphonic genre, plays at a very high international standard and easily keeps pace with established bands such as Stratovarius, Rhapsody, Dionysus, Thunderstone and Sonata Arctica. Up-tempo hymns with high classical melodies, complex guitar parts played with virtuosity, unmistakeable vocals and memorable melodies are the characteristics of this, the band's third album. Their previous work, "Voice from the Silence" had already impressed both the press and fans and came highly recommended listening. 2016 is sure to be a successful year for SYMPHONITY.

"King Of Persia" contains all the ingredients that fans of Sonata Arctica, Stratovarius, Rhapsody and Thunderstone expect from a high quality album: a build-up of broad choruses, voluminous melodies, galloping guitar attacks as well as neo-progged 6-string inserts. Add to that the vocals, which will send shivers down the spine of voice freaks. "In The Name Of God" with its classical guitar tracks will get the headbangers active and the melodies are irresistable and simply force you to sing along with them. The seven minute long "Children Of The Light" changes pace, mood and progressive claims – it's a fast paced firework display of inspiration and complexity. The title track, around nine minutes long, is the core of the album and shows off the band's clear talents for writing exciting songs and to put them to music in an equally impressive manner. Whilst "Siren Call" curls through your ears in a ballad-like way, "Live To Tell The Tale" is almost a rock number. "The Choice" will certainly thrill Avantasia fans. You can see, or rather you can hear that SYMPHONITY have managed to expand their musical field without having reduced the level of their basic influences. "King Of Persia" is a "Must Have" album for fans of Melodic Heavy Metal in 2016.
Tracklisting:
Total playing time 53:28
For Fans of SONATA ARCTICA, STRATOVARIUS, DIONYSUS, RHAPSODY, THUNDERSTONE.
With Olaf Hayer (AINA, LUCA TURILLI, CHRYZTYNE, DIONYSUS, TREASURE SEEKER etc.) the band has one of the most expressive German Heavy Metal vocalists.
Introducing the voice of Herbie Langhans – the new star of the latest AVANTASIA album and world tour.
Cover artwork by Andreas Marschall (BLIND GUARDIAN, KREATOR, RUNNING WILD, HAMMERFALL, etc.).
The band has already opened for NIGHTWISH.
Album mixed by Sascha Paeth and mastered by Miro, Wolfsburg, Germany.
30. September 2016
Sad loss in the SYMPHONITY band camp
Dienstag, Juli 3, 2012
SYMPHONITY's bass player Tomas "Tom" Celechosky has unfortunately lost his battle with cancer on June 27th, 2012. We here at the Limb Music headquarters are deeply saddened and send our condolences to his wife Elena, his family and his band members, who lost not only a great musician but a dear friend for many years.
Visit SYMPHONITY's website at www.symphonity.com to see some of the memories shared by the band.