JACK STARR'S BURNING STARR on tour in Europe
JACK STARR'S BURNING STARR feat. Ex-VIRGIN STEELE and ex-MANOWAR members will tour Europe in September.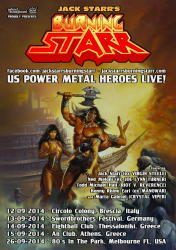 Jack Starr's BURNING STARR confirmed 4 European live shows:
12.09.2014 – Circolo Colony, Brescia, Italy
13.09.2014 – Swordbrothers Festival, Germany
14.09.2014 – Eightball Club, Thessaloniki, Greece
15.09.2014 – An Club, Athens, Greece

On September 26, BURNING STARR will also appear at the 80's In The Park Festival in Melbourne, Florida (USA), along with GREAT WHITE, ZEBRA, FASTER PUSSYCAT and others. The band is currently working on a new studio album titled "Stand Your Ground" with producer Bart Gabriel – who works with acts such as SACRED STEEL, MORTICIAN and SABATON – also produced BURNING STARR's latest album "Land Of The Dead".

Jack Starr's BURNING STARR, is an American Power Metal band formed in 1985 by the ex VIRGIN STEELE member and guitar wizard Jack Starr. After doing 4 classic albums in the '80s, the band returned with a new line-up feat. Jack Starr (guitar), Ned Meloni (bass guitar, ex JOE LYNN TURNER band, ex DEVIL CHILDE and PHANTOM LORD), Kenny Rhino Earl (drums, ex MANOWAR) and Todd Michael Hall (vocals, also in RIOT V), and released the well received comeback album titled "Defiance" in 2009. Two years later the band established their position on the market as one of the best US Power Metal acts with their studio album titled "Land Of The Dead". BURNING STARR's concert line-up is completed by the CRYSTAL VIPER front woman Marta Gabriel.
Jun 5, 2014