PRYDAIN – The Gates of Aramore is coming June 2, 2023!
Dienstag, Mai 2, 2023
Austin Dixon had been working on the song ideas for PRYDAIN over several years, but the real work began to happen during the Covid pandemic. Since no suitable musicians with the talent and enthusiasm for melodic power metal could be found locally and the Covid lockdown was also having ist effects, Austin started approaching some of his favourite musicians via internet in order to bring his songs to life.

First guy aboard was Pyramaze keyboardist Jonah Weingarten. Austin says "I've loved Pyramaze since their wonderful album 'Legend of the Bone Carver'. His orchestrations really helped bring the visions of my guitar riffs and structures to life."

Katagory V mastermind Dustin Mitchell, another local Utah musician, contributed some initial bass tracks, and Firewind's Bob Katsionis "has been on my radar since he blew me away live in Salt Lake City a few years ago with his dual-shred solos between guitar and keyboard, so I reached out."

Bob agreed to produce and mix Prydain. He also brought in fellow Greek countryman Mike Livas (Silent Winter, Keepers of Jericho, Timo Tolkki) to sing. Next, Austin dared to approach three of his favourite guitarists to see if they would each contribute a solo: Mikael Dahl (Crystal Eyes), Jimmy Hedlund (Falconer), and Jens Ludwig (Edguy). "To my surprise, they were all up for it right away! This collaboration with so many of my heroes is the coolest aspect."

Line-Up:
MIKE LIVAS – Vocals (Silent Winter)
AUSTIN DIXON – Lead & Rhythm Guitars (Sonic Prophecy)
JONAH WEINGARTEN – Keyboards & Orchestration (Pyramaze)
BOB KATSIONIS – Lead & Rhythm Guitars, Bass (ex Firewind, Wonders, Outloud, Stray Gods, Warrior Path)

Honored Guests:
Mikael Dahl (Crystal Eyes) – guitar solo
Jens Ludwig (Edguy) – guitar solo
Jimmy Hedlund (Falconer) – guitar solo
Dustin Mitchell (Katagory V) – bass guitar
John Yelland (Judicator) – additional vocals
David Åkesson (Qantice, Moonlight Agony, Symphonity) – additional vocals

➡️ Audio samples, videos and online stores ⬅️

➡️ YouTube Video ⬅️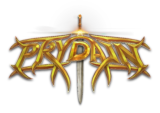 PRYDAIN first single & video out now!
Samstag, April 22, 2023
The first digital single and video from the album is the title track "The Gates of Aramore". This was the first full song written for the album and helped to set the tone for the thematic elements that would come to define the PRYDAIN sound.
This song is a straightforward Power Metal anthem and features guest vocals by David Åkesson (Qantice, Moonlight Agony, Symphonity) and Stefani Keogh, thundering bass from Utah's own Dustin Mitchell (Katagory V), as well as a blistering guitar solo from Mikael Dahl of the fantastic band CRYSTAL EYES.
We hope you enjoy this first taste of PRYDAIN!

The album "The Gates of Aramore" will be released on June 2, 2023.

For fans of: Avantasia, Edguy, Staratovarius, Hammerfall, Blind Guardian

Pre-order now