PAGAN'S MIND – Infinity Divine (re-release)
Montag, Oktober 25, 2004
After numerous live shows (e.g. ProgPower Atlanta & Europe, Sweden Rock Festival) the band was often asked about their older material which led the band and their label to carefully rework and re-release their first album. A new recording of the track "Embracing Fear" as well as an absolutely furious cover version of King Diamond's "At The Graves', with guest musicians Glen Drover (Eidolon, Megadeth, ex-King-Diamond) and Gus G. (Ozzy Osbourne, Firewind, ex-Dream Evil/Mystic Prophecy), make this re-release to a must-have highlight for all fans of quality melodic and progressive metal.
Tracklisting:
Total playing time 68:41
25. Oct 2004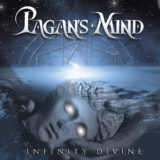 RHAPSODY – Tales From The Emerald Sword Saga
Montag, Februar 23, 2004
Since the opening tones of their sensational debut album, Legendary Tales, Rhapsody have been one of the most unusual phenomena of the current metal scene. The huge range of their creativity, the number of legendary compositions that the Italian band, with their primary members guitarist Luca Turilli and keyboarder Alex Staropoli, have released until 2002 is documented in their "Best Of" album Tales From The Emerald Sword Saga.
Nowhere on earth can one find anything remotely comparable, be it in their style or in the strength of expression. RHAPSODY is unique in the true meaning of the word. 16 tracks, the most unusual and the favourites in the Emerald Sword Saga, with a total playing time of over 70 minutes, make Tales From The Emerald Sword Saga to a highly interesting release for fans old and new.
Tracklisting:
Holy Thunderforce (Video-Clip) / 4:35
Total playing time 46:23
sensational sales figures of their five albums released to date & high chart positions
a cult-like adoration by their fans all over the world
sold out concerts on tours including Japan, Korea and Southamerica and tremendous shows at almost every important metal festival in Europe
23. Feb 2004