PAGAN'S MIND – God's Equation
Freitag, November 9, 2007
'God's Equation' is a musical giant consisting of groove, melody, intelligent heaviness and ambitious song writing. The guitar wall is absolutely voluminous and shapes the whole album. Due to the crystal clear, very transparent and hard production, the songs do really 'explode'. Skillfully and cleverly, the musical essences of that what constitutes Progressive Heavy Metal are joined here.
Tracklisting:
Total playing time 60:01
09. Nov 2007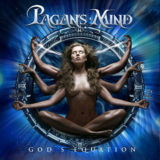 BLACK MAJESTY – Tomorrowland
Freitag, Juni 1, 2007
BLACK MAJESTY is one of the premium quality Melodic Power Metal bands from Australia. They have a distinct feeling to connect traditionally forged steel with superb, speedy melodies. "Tomorrowland" brims with energetic guitar duels, increased tempo and a lot of thrust. This positive Metal Power is taken to an enormously high level by the concise vocal lines of exceptional singer John Cavaliere.
Tracklisting:
Total playing time 49:39
01. Jun 2007