DANIELE MAZZA album & video released today!
Freitag, Oktober 29, 2021
Debut album "Immortals" by DANIELE MAZZA (Ancient Bards) out today!

A message from Daniele:
"IMMORTALS marks the beginning of a new project, which, like all projects, started as my own journey, but got enriched along the way by the collaboration of teammates whose commitment gave me a huge hand. This is why first of all I want to thank the people who participated by my side in the realization of this first chapter: Sara Squadrani, Claudio Pietronik, Chiara di Mare, Matteo Ermeti, Vincent Lefevre, Davide Grussu, Simone Mularoni and the whole team at Limb Music.

Starting today, IMMORTALS is available on CD (incl. CD bonus track) and on all digital streaming/download platforms.

To celebrate this day, I'm glad to leave you with the videoclip of TIME TO GO feat. Sara Squadrani (Ancient Bards), directed by Matteo Ermeti."

Audio samples & Videos: HERE

CD & Streaming/Download: HERE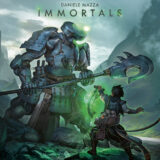 DANIELE MAZZA – Immortals
Donnerstag, Oktober 14, 2021
Born in Cesena in 1987, Daniele Mazza is the founder, main songwriter and lyricist of the Symphonic Power Metal act Ancient Bards. With "Immortals", he'll appeal to a broad spectrum of classically oriented music fans – aficionados of film score giants such as Hans Zimmer ("Pearl Harbor", "Rain Man") as well as friends of New York's bombast rockers Trans-Siberian Orchestra ("Beethoven's Last Night") or Sweden's Stratocaster Paganini, Yngwie Malmsteen ("Concerto Suite for Electric Guitar and Orchestra in E-flat Minor").

The facets of the eleven equally soulful and powerfully staged tracks reflect Daniele's original passion for highly emotional film music – very much in the spirit of his admired legends Thomas Bergersen and Nick Phoenix aka Two Steps From Hell and their work for numerous cinema blockbusters.

The solo voice of "Immortals" (on the balladesque track "Time To Go") was contributed by soprano Sara Squadrani (Ancient Bards). Aresea vocalist Chiara Di Mare can be heard providing background vocals to accompany the choir sequences. The lead guitars magically hovering above the deep sound carpet are provided by Ancient Bards guitarist Claudio Pitronik

Click HERE for song snippets, video links and more information on where to buy/stream the album.


29. October 2021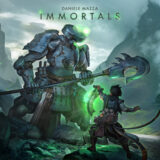 DANIELE MAZZA – "In The Heart Of Battle" single out now!
Mittwoch, Oktober 6, 2021
The second single from the album "Immortals" by DANIELE MAZZA is out now. Bombastic orchestrations, powerful drums, and the incredible guitar solo performed by Claudio Pietronik (ANCIENT BARDS guitarist) are the main ingredients of this Epic Cinematic song.

This is what you can expect from the upcoming album, to be released on October 29th.

Find the video on all major digital platforms.

For more info and audio samples click HERE.


DANIELE MAZZA – IMMORTALS: second single coming up!
Mittwoch, September 29, 2021
"IN THE HEART OF BATTLE" is the title of this Epic Symphonic Metal song that will transport the listener into the heart of Tayko's nightmares.

This song features Claudio Pietronik (Ancient Bards guitarist), who's guitar solo strongly enriches the bombastic sound of the orchestra and the powerful drums!

Catch the single on October 6th on all major streaming platforms!


DANIELE MAZZA "Immortals" Video out now!
Dienstag, September 21, 2021
"Immortals" by DANIELE MAZZA (songwriter & keyboarder of ANCIENT BARDS) will give you a first glimpse into the Epic Filmscore Soundtrack music that you can expect from the upcoming solo album of the same name, released on October 29th.

For more info and song snippets click: HERE.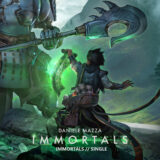 DANIELE MAZZA – first single is coming up!
Donnerstag, August 26, 2021
The title track "Immortals" is the first single of DANIELE MAZZAs debut album. The song is the introduction to an epic album that will transport you to a magical world where Tayko, a young boy, is ready to face his greatest adventure against the Immortals.

The single will be available on all digital platforms on September 3rd!

The tracklist of the album will be:
01. Immortals
02. Believe In Dreams
03. The Floating Fortress Of The Rising Sun
04. In The Heart Of Battle
05. Darkest Night
06. Tayko's Secret Force
07. Time To Go (feat. Sara Squadrani)
08. The Wave Of Destiny
09. Riding The Dragon
10. Beyond The Horizon
11. Time To Go (Instrumental)

CD only bonus tracks:
12. I'll Be Back
13. Time To Go (Piano Version)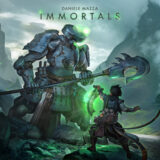 DANIELE MAZZA – Teaser out now
Donnerstag, August 12, 2021
A new epic adventure is about to begin!

This is the teaser for the upcoming Epic Cinematic Filmscore solo album "IMMORTALS", composed and produced by Daniele Mazza, with guest appereances by Sara Squadrani and Claudio Pietronik, all of ANCIENT BARDS fame.

"IMMORTALS" will be out on October 29th on CD, which will include a bonus track, and on all major digital platforms.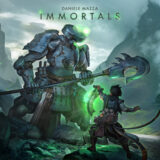 Limb Music is proud to announce "Immortals" by DANIELE MAZZA (ANCIENT BARDS)
Donnerstag, Juli 29, 2021
This album will be different from what you would normally expect from us, but we just could not pass it. So without further ado, let us see what the artist has to say.

A message from Daniele:
"While I'm putting the finishing touches to the compositions and orchestrations of Ancient Bards' fifth album, I am extremely excited to announce the release of my first solo album IMMORTALS!

It's going to be an orchestral, epic, cinematic album that will also feature my trusted fellow bards Sara Squadrani and Claudio Pietronik, as well as Chiara Di Mare. Ideal for fans of Ancient Bards, Two Steps From Hell, Hans Zimmer, Film Music, and Trailer Music.

IMMORTALS (produced and mixed by Daniele Mazza, mastered by Simone Mularoni, artwork by Vincent Lefevre) will be available on all digital platforms starting October 29th, 2021.

You can expect more news coming up from me and the Bards, so don't roam too far!"