SYMPHONITY – EUROPEAN TOUR 2023
Donnerstag, April 6, 2023
SYMPHONITY announce their European Tour 2023 supporting Rhapsody Of Fire and performing their new album "Marco Polo: The Metal Soundtrack".

---
Tourdates:
14/04/23 GER Leipzig, Hellraiser
15/04/23 DK Roskilde, Gimle
16/04/23 GER Hamburg, Logo
18/04/23 PL Lublin, Studio Im. Budki Suflera
19/04/23 PL Warsaw, Proxima
20/04/23 AT Vienna, Viper Room
21/04/23 CZ Zlín, Masters of Rock Café
22/04/23 IT San Dona, Revolver
23/04/23 IT Milano, Legend Club

---
SYMPHONITY audio samples, videos & online stores/streaming platforms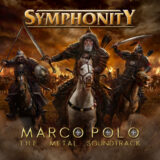 SYMPHONITY release new single!
Freitag, März 11, 2022
We are proud to announce today's release of the first digital single from SYMPHONITY's upcoming album "Marco Polo: The Metal Soundtrack". The song is called "Marco Polo Part 3: The Plague" and it is now available on all digital platforms worldwide.

The song is a powerful speedy hymn with strong melody line in chorus. It begins with the mighty sound of Armenian Duduk (ancient Armenian wood instrument) and it is one of the fastest songs on the album.

Except of the swift guitar solo, you can hear the solo part on another special instrument – Turkish violin. The whole song is very heavy, probably much heavier than most of other SYMPHONITY's songs. It relates to the plague which the whole Marco Polo expedition experienced in the town of Hormuz.