SANDSTONE – new album on the way
Donnerstag, August 5, 2021
New SANDSTONE album entitled "Epsilon Sky" out on November 5th, 2021!

You can't keep a good thing down! After the release of their seminal 4th album "Delta Viridian" in 2013, and extensive touring, SANDSTONE took a break to get back to basics and re-imagine the band going forward. Presented here is a collection of dark brooding songs that represent a heavier, more sonically coherent, and more confident band.

Sit back and take a listen to the song writing intensity and maturity of a band that aren't afraid to ignore the current trends in the music industry and go wherever their artistic vision takes them.

The result: an album for fans of deep thoughtful songs with tasteful and aggressive performances. All packaged up in a tight, all killer – no filler compact gut punch of an album that harks back to the melodic storytelling traditions of their Celtic homeland, forged in an alloy of metal, hard rock and progressive tendencies.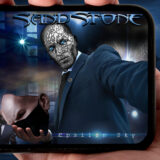 FLASHBACK OF ANGER announce new bass player
Donnerstag, Mai 3, 2012
After the untimely death of Francesco Masini, the Italian band FLASHBACK OF ANGER is ready to announce Andrea "Tower" Torricini as new bass player.

Andrea comes from the bands Vision Divine and Wonderland and has recently played along with Tommy Vitaly and several other international artists such as David Defeis, Todd LaTorre, Zak Stevens, Rhino and others.

The band just started recording the new album with the new line-up at Studio Emme Recording.
FLASHBACK OF ANGER sad loss…  
Dienstag, Juni 21, 2011

We just received the sad message that Francesco Masini, bass player of FLASHBACK OF ANGER, lost his battle with cancer on June 18th. Our condolences go out to the family and friends of a man gone way too early.
SANDSTONE – Purging The Past
Freitag, Oktober 30, 2009
With a mixture of Power, Progressive and Melodic Metal as well as various NWOBHM influences, the 12 songs on the album are catchy and impress you with classy songwriting and remind you a bit of Fates Warning, Iron Maiden and Queensryche. But SANDSTONE manages the almost impossible, creating a versatile, exciting and unique style.
Tracklisting:
Total playing time 55:23
young Irish band enjoying an excellent reputation in the underground scene
versatile mixture of Power, Progressive, and Melodic Metal and various NWOBHM influences
for fans of Queensryche, Iron Maiden, old Fates Warning, NWOBHM maniacs
album remastered by Uwe Lulis (Rebellion, ex-Grave Digger)
previous releases got excellent reviews
30. Oct 2009