SKYLINER – Condition Black
Dienstag, Oktober 11, 2016
Jacksonville in Florida's north-east shouldn't be condemned just because Limp Bizkit hails from there. Jacksonville has more to offer. SKYLINER, for example, who appeared on the metal scene two years ago with their excellent album, "Outsiders" and who immediately made their mark on the genre with their musical brew of Power and Prog Metal elements. The Americans sounded distinctly European, something that did not only make friends in their hometown. But they bit the bullet and carried on, working through local clubs and began writing songs for their follow-up album. "Condition Black" built up on "Outsiders" dipping a toe into new musical spheres and showed a band trying to find its new self without turning its back on its influences. Not an easy task but in the end the lads are to be congratulated on the success of the experiment.

In a musical sense they became more experimental, the songs are different to those on the predecessor, the sound reaches further into the past. "Condition Black" is certainly an album which is not meant to be just music in the background.

The progged influences cannot be overlooked and they have moved somewhat away from the traditional Power Metal elements which stamped the predecessor album. The vocals became rawer and one could almost say that "Condition Black" shows a band built on an entirely new musical base, turning down the sound to its most important elements. What may sound at first as unstructured and inconsistent soon shows its very own appeal.

"As Above, So Below (Those Who From Heaven To Earth Came)" is a fast, straight number definitely in the style of Rage. In contrast to that is "The Morbid Architect", a track whose growls and blast beats is almost frightening, but which is surprisingly good thanks to the combination with thrashy-fast metal passages. The progged, fast "Too Many Voices" is one of the highlights of the album, as is "Your Hand In Mine". The listener should not prejudge the album before listening it through, letting him- or herself be carried along, putting memories and opinions of the band to one side and giving the new a chance. SKYLINER certainly don't make it easy with this new album, but isn't it the unusual sound and style of a band which give new perspectives? "Condition Black" is exactly one of those rare albums.
Tracklisting:
Total playing time 60:52
Second album of the US trio which has now torn down musical barriers and set new accents on its sound.
The long-awaited follow-up to their superb debut album.
For musically open-minded fans who appreciate and prefer albums with great variety.
21. October 2016
SKYLINER – Outsiders
Dienstag, Februar 4, 2014
'Outsiders' is SKYLINER's awesome, enthusiastic, refreshing debut album. A real US Power Metal gem with a progressive mind! The songs on this first album are based on passion and technical versatility – and this first great impression is perfected by a crystal-clear, extremely transparent production. The symbiosis of classy, sophisticated song writing characteristic for the US and the traditional Heavy Metal values and virtues of European combos turn 'Outsiders' into a metal fireworks par excellence.
Tracklisting:
Total playing time 75:50



Great debut by the US band in the tradition of Fates Warning, Warlord, Angel Witch, Running Wild, Rage, etc…
Produced by Jamie King (Between the Buried and Me, Scale The Summit, Devin Townsend…).
For fans of American Power/Prog Metal.
28. February 2014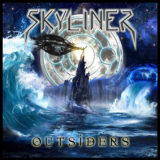 JACK STARR'S BURNING STARR classic album feat. ex members of VIRGIN STEELE, RIOT, SAVATAGE to be reissued
Donnerstag, Juni 21, 2012
"No Turning Back!" – the classic JACK STARR'S BURNING STARR album from 1986, will be reissued in July via Skol Records. This will be the first official CD re-release of this album since 1998: the album got new artwork (painted by the famous Polish artist Tomasz Oracz), got remastered by Bart Gabriel (CRYSTAL VIPER, SACRED STEEL, LONEWOLF), and will include 2 bonus tracks and thick booklet with all lyrics and many previously unseen photos. CD will be limited to only 1000 copies, and its official premiere has been scheduled for July 25, 2012.

"No Turning Back!" – which is often labeled as "one of the best US Power Metal albums ever" – was recorded by the following line-up:
Jack Starr – guitars (ex-VIRGIN STEELE, ex-PHANTOM LORD)
Mike Tirelli – vocals (MESSIAH'S KISS, ex-HOLY MOTHER)
Keith Collins – bass guitar (ex-SAVATAGE, ex-AVATAR)
Mark Edwards – drums (ex-RIOT, ex-EXORCIST, ex-STEELER)
David DeFeis – keyboards (VIRGIN STEELE, EXORCIST)

In other news: JACK STARR'S BURNING STARR will play an exclusive show at the 2013 edition of the Keep It True Festival in Germany. The group's setlist will include classic songs from the early JACK STARR'S BURNING STARR albums, songs taken from the band's new CD, "Land Of The Dead", and select cuts from Starr's previous bands VIRGIN STEELE, PHANTOM LORD and GUARDIANS OF THE FLAME. The entire show will be filmed for a special DVD release, which will be out in 2014 – the 30th anniversary of JACK STARR'S BURNING STARR. Also in the works are other European live shows for 2013.

"Land Of The Dead" was released on November 11. The CD was produced by Bart Gabriel, and features cover artwork by Ken Kelly (RAINBOW, KISS, MANOWAR). "Land Of The Dead" was recorded by the same line-up that was responsible for 2009's "Defiance" album: Jack Starr on guitar, Ned Meloni on bass, Kenny "Rhino" Earl (ex-MANOWAR) on drums, and Todd Hall on vocals. The CD also features guest appearances by David Shankle and Ross The Boss (both ex-MANOWAR) on lead guitar, and Marta Gabriel (CRYSTAL VIPER) on grand piano and keyboards.
JACK STARR'S BURNING STARR – Land Of The Dead
Freitag, November 11, 2011
Metal as metal should be! JACK STARR (ex-Virgin Steele) makes it clear that Eighties metal needn't sound musty or faded, but instead, with unbounded passion, high-quality songwriting and a kick-ass production, it can hold its head up high today without the stain of clichees! Guest musicians: Ross The Boss & David Shankle (both ex-Manowar).
Tracklisting:
Total playing time 60:13
Excellent new Power Metal album of the ex-Virgin Steele guitarist.
Powerful combination of classical Eighties Metal and memorable hymns.
With ex-Manowar musicians.
Jack Starr can look back on a first-class back catalog from the Eighties.
Amazing front cover artwork by Ken Kelly (Kiss, Rainbow, Manowar).
For fans of Virgin Steele, Riot, Holy Mother.
11. Nov 2011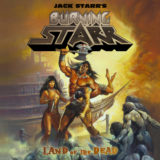 BURNING BLACK – MechanicHell
Freitag, November 20, 2009
This Power Metal output bristles with metal power, emotion and energy. Brilliantly arranged with the necessary melodies and fast up-tempo songs. The sharp yet smooth style somehow reminds you of US West Coast Metal in its heyday: a perfect combination of aggressive riffing and trademark vocals' parts, sounding like a mixture of Judas Priest, Malice, Lion, Hammerfall and Brainstorm.
Tracklisting:
Total playing time 46:23
excellent, timeless, very melodious Power Metal
for fans of Judas Priest, Hammerfall, Brainstorm, Malice
a lot of live experience gained during shows with U.D.O, Circle II Circle, Primal Fear, Rage, etc…
great reviews of all releases so far
20. Nov 2009