PAGANS MIND – Celestial Entrance
Montag, November 18, 2002
The first album of Norway's greatest Prog/Power Metal hope on Limb Music. Mixed and produced by successful producer Fredrik Nordström (Hammerfall, Synergy). PAGAN'S MIND are the legitimate heirs to the TNT and Conception throne and will be warmly welcomed by every fan of both Prog- and Power Metal.
Tracklisting:
Back To The Magic Of Childhood

Total playing time 71:44
18. Nov 2002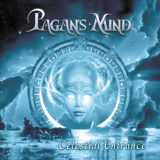 RHAPSODY – Power Of The Dragonflame
Montag, März 18, 2002
As a glorious conclusion of their "Emerald Sword saga", the Symphonic Epic Metal heroes, on their fourth album, offer a cross-section of all the styles of their previous works. With an incomparable mixture of songs, from fast and aggressive to epic and orchestral, the band once again underline their position at the very top of this musical genre. Produced by Sascha Paeth & Miro.
Tracklisting:
i. Angeli di Pietra Mistica
ii. Warlords' last Challenge
iii. …and the Legend ends…
18. Mar 2002