MEMORIES OF OLD – new bass player
Freitag, Juli 22, 2022
MEMORIES OF OLD are extremely happy and proud to announce the newest member of the MOO family, joining them as their new bassist, Rhys Morgan!!
"I feel elated to be joining Memories Of Old as we start this new chapter together, and I look forward to sharing this journey with everyone!!"
Everyone be sure to give Rhys the most warm welcome in the comments as we know you all will, and look out for more epic news still to come.

Click here for audio samples, videos and online stores/streaming platforms.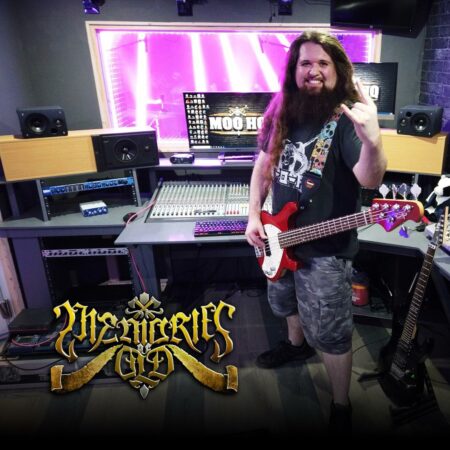 MEMORIES OF OLD – The Land Of Xia (Performance Video)
Donnerstag, Februar 17, 2022
On this day 3 years ago, MEMORIES OF OLD released their very first single to the world, which went on to become one of their most popular and well known tracks "The Land of Xia", the worlds first taste of MEMORIES OF OLD and the groundwork for what was and still is to come!
You may remember a while back, "The Land of Xia" was also voted for the track you all most wanted to see them make a performance video of, and with that in mind they figured today would be the perfect day to release this video for you to all enjoy. 😉
So here it is, please like, share, and most importantly, rock out with us, as we celebrate this special day in style! 😎🤘
Audio samples & Videos: HERE
CD & Streaming/Download: HERE
ANCIENT BARDS V – First Announcement
Donnerstag, August 19, 2021
Big news for ANCIENT BARDS fans! More to follow, stay tuned…



🔥⚔️ MEMORIES OF OLD – The Zeramin Game out now! ⚔️🔥
Freitag, September 18, 2020
The time has finally come!

The whole band is very proud to present you its debut album 'The Zeramin Game'.

Quote by the band:
"It has been a long and bumpy road, but a wonderful adventure to live with you all! We are very happy to share this journey with the most fabulous and loyal fans we could have dreamed for.

But enough words and more music!
Time to rock!"

Watch the teaser below or listen to it on all major streaming platforms, following this link:
https://orcd.co/moo-tzg

Buy the album at:
ebay.de
MEMORIES OF OLD bandcamp
MEMORIES OF OLD shop


MEMORIES OF OLD – The Zeramin Game
Donnerstag, September 17, 2020
Epic Symphonic Power Metal is a style that has neither too many friends in the UK nor bands which tend to indulge in this more Scandinavian or Italian genre. Nevertheless, a certain Billy Jeffs has discovered a passion for this genre and starts working on an album in 2017. Three years later, with his new band MEMORIES OF OLD, he presents an album that impressively reflects the entire spectrum of this genre. "The Zeramin Game" is not just a simple debut – it is an epitome of the genre. What started as a one-man-project has even aroused the interest of Sabaton/Majestica guitarist Tommy Johansson, who quickly declared himself a member of MEMORIES OF OLD. "The Zeramin Game" delivers a firework of songs that fans of Epic Symphonic Power Metal will embrace enthusiastically! The compositions are crisply produced, up to date, and simply monumental.

You can listen to it on all major streaming platforms, following this link: https://orcd.co/moo-tzg

Or buy the album at:
ebay.de
MEMORIES OF OLD bandcamp
MEMORIES OF OLD shop
Tracklisting:
Total playing time: 1:12:59
Epic Symphonic Power Metal made in England. Style similar to Alestorm and Malmsteen
Vocalist: SABATON guitar player Tommy Johansson
Produced by Billy Jeffs and Alessio Garavello (A New Tomorrow, ex-Power Quest)
18. September 2020
MEMORIES OF OLD – Last single before the album release
Freitag, September 4, 2020
🔥⚔️ THE LAND OF XIA ⚔️🔥

Today we find ourselves two weeks away from the launch of 'The Zeramin Game', and there is truly no better time to take a look back to where it all began.

We are very happy to present the last stop on the road to launch day by bringing you the final album version of 'The Land of Xia', another song that has truly evolved and grown since we first presented it to you.

You can hear the new version on all your favourite platforms, including Spotify, iTunes, Amazon and more!

Be sure to check out the original lyric video below (containing the old version of the song) if you missed it the first time around!

You will receive this single (plus the previous two) instantly when pre-ordering the album digitally via Amazon and iTunes.

To enter the band's release competition for some great prizes, pre-order your physical copy of The Zeramin Game until TODAY, 11:59PM BST!


🔥⚔️ MEMORIES OF OLD – ZERA'S SHADOW – New single out now! ⚔️🔥
Freitag, August 14, 2020
MEMORIES OF OLD are back at the shores of Zera, to bring you this brand new version of last year's epic single, "Zera's Shadow"!

This version is straight from the debut album "The Zeramin Game", and over the course of the album's production, has grown and evolved since they presented it to you for the first time last year. The band couldn't be more happy to share another preview of what you can expect this September!

You can hear the new version on all your favourite platforms, including Spotify, iTunes, Amazon and more, see: https://orcd.co/moo-zs

You will receive the single (plus the last and upcoming) instantly when pre-ordering the album digitally via Amazon and iTunes. To enter the band's release competition for some great prizes, pre-order your physical copy of "The Zeramin Game" at: https://www.memoriesofold.co.uk/shop

Be sure to check out the original 2019 lyric video if you missed it the first time around: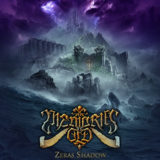 🔥⚔ MEMORIES OF OLD – "Some Day Soon" single out now! 🔥
Freitag, Juli 24, 2020
"Mysteries and secrets, forever hidden under the shadow of Zera, its tales and legends remain veiled in darkness.
But one boy dreams of this forbidden place, of a saviour foretold by the ancient legends.
Could this be his time, and the start of an amazing journey…?"

We are very pleased to finally present to you the latest single, 'Some Day Soon', from their upcoming debut album "The Zeramin Game"!
Find it on your favorite streaming/download platform.



Pre-order your album copy here: MEMORIES OF OLD shop

Music and lyrics written by Billy Jeffs
Produced by Alessio Garavello & Billy Jeffs
Artwork & video by Anthony Thompson
Some Day Soon (single)