CRISTIANO FILIPPINI'S FLAMES OF HEAVEN – First single/video release
Friday, October 23, 2020
And finally here we are!

This is the first single and videoclip taken from the upcoming album "The Force Within" out on November 20th.

"We Fight For Eternity" is a power metal song full of symphonic epic arrangements and catchy melodies! Are you brave enough to join the angels army to fight evil spells and dangerous witches? Are you smart enough to distinguish good from evil trough flashbacks and time travels? – If the answer is yes… – just play it!

---
You can hear the audio version on all your favourite platforms, including Spotify, Apple Music, amazon and more! Click HERE for more info.

If you pre-order the album on amazon or iTunes, you will receive the single instantly, too!

---
Line-Up:
Cristiano Filippini – lead & rhythm guitars, keyboards, arrangements, orchestrations
Michele Vioni – lead & rhythm guitars, acoustic guitars
Marco Pastorino – lead & backing vocals
Giorgio Terenziani – bass
Paolo Caridi – drums
---
CRISTIANO FILIPPINI'S
FLAMES OF HEAVEN
Thursday, October 15, 2020
In dark times, epic music is needed to get people in a positive mood again. On the surface, "The Force Within" belongs to the genre of Epic Symphonic Power Metal, yet there is more behind Cristiano Filippini's Flames of Heaven than just trying to deliver a strong all-star album. This project brings together the most talented group of Italian metal musicians to deliver a creative powerhouse album. The ideas of composer, producer, and guitarist Cristiano Filippini have developed into a real spectacle, which will win over fans of the genre in no time.
Even though the genre is often called kitschy, "The Force Within" is anything but that. The production is superb, the compositions elaborated to the smallest detail. The melodies are catchy and the vocals with the expressive voice are brilliant. The guitar work is simply awesome. The album shows a band with great technical prowess and a versatility of switching between voluminous and razor sharp, delivering songs which take you on a great musical journey. It is interesting, by the way, that the orchestral parts are used very efficiently and at the same time discreetly, rounding off the pieces to perfection.
20. November 2020
ROXXCALIBUR – ALBUM NO. 4 IN THE MAKING!
Tuesday, September 22, 2020
…THE RETURN OF "PERMANENT GARAGE DAYS" (and not just "revisited")

Quote from the band:
"Yes, it seemed impossible some months back. Our last album "Gems Of The NWOBHM" was released in 2015. …

When we started, we had underground songs on our first album, like "Seven Days Of Splendour" from Jameson Raid or "Rainbow Warrior" from Bleak House. Many of these bands have been reissued on great labels like High Roller, No Remorse or Cult Metal Classics and some of those bands are active again. The once "unknown" NWOBHM songs from rare 7″ singles and albums are now bigger than ever (not just because of us!!). … We always wanted to surprise people with great songs that only a few people know (or remember). This still is our aim, so we have to dig way deeper than usual to make Roxxcalibur album number 4 as relevant as the three albums before. We are on a good way here, still chosing tracks right now! Here and there we might do some more changes to the songs than usual when the original is more AOR or punk…let's see!

Beside that nothing has changed! Same line-up as on "Gems…" and the same label (Limb Music). No modern studio production but an authentic in-your-face sound. Same attitude, same fun!

There's a lot of NWOBHM-people who we met and who are not with us anymore. This album will be dedicated to all of them, including Mr. Tsangarides who did our second album."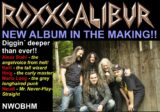 🔥⚔️ MEMORIES OF OLD – The Zeramin Game out now! ⚔️🔥
Friday, September 18, 2020
The time has finally come!

The whole band is very proud to present you its debut album 'The Zeramin Game'.

Quote by the band:
"It has been a long and bumpy road, but a wonderful adventure to live with you all! We are very happy to share this journey with the most fabulous and loyal fans we could have dreamed for.

But enough words and more music!
Time to rock!"

Watch the teaser below or listen to it on all major streaming platforms, following this link:
https://orcd.co/moo-tzg

Buy the album at:
ebay.de
MEMORIES OF OLD bandcamp
MEMORIES OF OLD shop


MEMORIES OF OLD – The Zeramin Game
Thursday, September 17, 2020
Epic Symphonic Power Metal is a style that has neither too many friends in the UK nor bands which tend to indulge in this more Scandinavian or Italian genre. Nevertheless, a certain Billy Jeffs has discovered a passion for this genre and starts working on an album in 2017. Three years later, with his new band MEMORIES OF OLD, he presents an album that impressively reflects the entire spectrum of this genre. "The Zeramin Game" is not just a simple debut – it is an epitome of the genre. What started as a one-man-project has even aroused the interest of Sabaton/Majestica guitarist Tommy Johansson, who quickly declared himself a member of MEMORIES OF OLD. "The Zeramin Game" delivers a firework of songs that fans of Epic Symphonic Power Metal will embrace enthusiastically! The compositions are crisply produced, up to date, and simply monumental.

You can listen to it on all major streaming platforms, following this link: https://orcd.co/moo-tzg

Or buy the album at:
ebay.de
MEMORIES OF OLD bandcamp
MEMORIES OF OLD shop
Tracklisting:
Total playing time: 1:12:59
Epic Symphonic Power Metal made in England. Style similar to Alestorm and Malmsteen
Vocalist: SABATON guitar player Tommy Johansson
Produced by Billy Jeffs and Alessio Garavello (A New Tomorrow, ex-Power Quest)
18. September 2020
MEMORIES OF OLD – Last single before the album release
Friday, September 4, 2020
🔥⚔️ THE LAND OF XIA ⚔️🔥

Today we find ourselves two weeks away from the launch of 'The Zeramin Game', and there is truly no better time to take a look back to where it all began.

We are very happy to present the last stop on the road to launch day by bringing you the final album version of 'The Land of Xia', another song that has truly evolved and grown since we first presented it to you.

You can hear the new version on all your favourite platforms, including Spotify, iTunes, Amazon and more!

Be sure to check out the original lyric video below (containing the old version of the song) if you missed it the first time around!

You will receive this single (plus the previous two) instantly when pre-ordering the album digitally via Amazon and iTunes.

To enter the band's release competition for some great prizes, pre-order your physical copy of The Zeramin Game until TODAY, 11:59PM BST!


🔥⚔️ MEMORIES OF OLD – ZERA'S SHADOW – New single out now! ⚔️🔥
Friday, August 14, 2020
MEMORIES OF OLD are back at the shores of Zera, to bring you this brand new version of last year's epic single, "Zera's Shadow"!

This version is straight from the debut album "The Zeramin Game", and over the course of the album's production, has grown and evolved since they presented it to you for the first time last year. The band couldn't be more happy to share another preview of what you can expect this September!

You can hear the new version on all your favourite platforms, including Spotify, iTunes, Amazon and more, see: https://orcd.co/moo-zs

You will receive the single (plus the last and upcoming) instantly when pre-ordering the album digitally via Amazon and iTunes. To enter the band's release competition for some great prizes, pre-order your physical copy of "The Zeramin Game" at: https://www.memoriesofold.co.uk/shop

Be sure to check out the original 2019 lyric video if you missed it the first time around:

🔥⚔ MEMORIES OF OLD – "Some Day Soon" single out now! 🔥
Friday, July 24, 2020
"Mysteries and secrets, forever hidden under the shadow of Zera, its tales and legends remain veiled in darkness.
But one boy dreams of this forbidden place, of a saviour foretold by the ancient legends.
Could this be his time, and the start of an amazing journey…?"

We are very pleased to finally present to you the latest single, 'Some Day Soon', from their upcoming debut album "The Zeramin Game"!
Find it on your favorite streaming/download platform.



Pre-order your album copy here: MEMORIES OF OLD shop

Music and lyrics written by Billy Jeffs
Produced by Alessio Garavello & Billy Jeffs
Artwork & video by Anthony Thompson
Some Day Soon (single)