STAY THE FUCK HOME AND LISTEN TO METAAAAAAAL…
Thursday, March 19, 2020


Nothing fancy – just the fact!

We could recommend our playlist Power Metal Mix – or the Power Metal Ballads or any other good music by our fellow labels.

Just STAY HOME – STAY SAFE!!!
MEMORIES OF OLD release date postponed
Tuesday, March 17, 2020
Even though we hate to do it but… – We'll let MEMORIES OF OLD explain the situation, as we could not have said it any better!

"⚔️ Disappointing, but Unavoidable News… ⚔️

To our wonderful fans, I know that some of you may have been dreading a post like this… but I am heartbroken to have to tell you that very sadly, due to the global madness that is COVID-19, our album release has been put "On Hold" until further notice by the label. This is not their fault as there is nothing they can do about it either. So many third parties are required for releasing a record, and unless all of those third party companies are fully open and operational, it simply cannot happen. This is totally devastating for us, not only because we are currently putting the finishing touches to the music and it should be a very happy time for us, not a time overshadowed by disappointment… but mainly because it means that you guys will have to wait even longer to hear it. 😢

At this time, neither us or the record label have any idea what the future holds or when the record will be released, there is just no way of knowing for sure, but you guys will be kept updated as and when we get any news. We will always be eternally grateful for your endless patience and support up until now, and we really hope that you can battle through this excruciating wait along with us. We will try our best to bring you lots of content along the way, and if you have any suggestions on things you might like to see from us in the meantime, please do let us know! 🙂

In addition, all store items will be changed to pre-order only until further notice.

Thank you all from the bottom of our hearts for your continued support. We promise you that this album will be worth the wait! ⚔️💜🔥

Billy + Memories Of Old"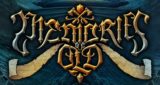 MEMORIES OF OLD – album update available!
Tuesday, February 18, 2020
Billy, Tommy and Erick have a little update for you from the backstage area at Wembley Arena! 😜


Look out for lots of more updates in the coming weeks as the guys work endlessly to bring you their debut album "The Zeramin Game".

They are exited – and so are we as we are looking forward to the final result of this soon to be released epic masterpiece.