More new additions to our mailorder store!
Dienstag, Oktober 3, 2023
More new additions to our ➡️ www.forever-rock.de ⬅️ mailorder store !!!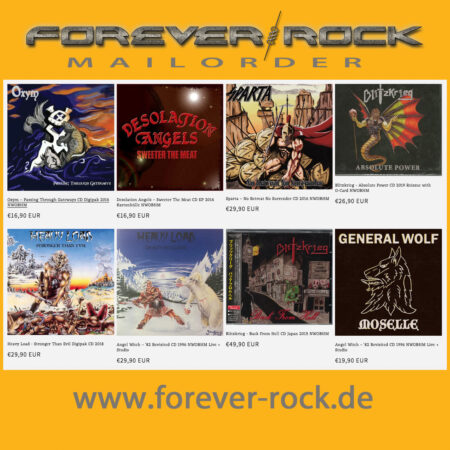 New additions to our mailorder store!
Dienstag, Oktober 3, 2023
New additions to our ➡️ www.forever-rock.de ⬅️ mailorder store !!!



ROXXCALIBUR – ALBUM NO. 4 IN THE MAKING!
Dienstag, September 22, 2020
…THE RETURN OF "PERMANENT GARAGE DAYS" (and not just "revisited")

Quote from the band:
"Yes, it seemed impossible some months back. Our last album "Gems Of The NWOBHM" was released in 2015. …

When we started, we had underground songs on our first album, like "Seven Days Of Splendour" from Jameson Raid or "Rainbow Warrior" from Bleak House. Many of these bands have been reissued on great labels like High Roller, No Remorse or Cult Metal Classics and some of those bands are active again. The once "unknown" NWOBHM songs from rare 7″ singles and albums are now bigger than ever (not just because of us!!). … We always wanted to surprise people with great songs that only a few people know (or remember). This still is our aim, so we have to dig way deeper than usual to make Roxxcalibur album number 4 as relevant as the three albums before. We are on a good way here, still chosing tracks right now! Here and there we might do some more changes to the songs than usual when the original is more AOR or punk…let's see!

Beside that nothing has changed! Same line-up as on "Gems…" and the same label (Limb Music). No modern studio production but an authentic in-your-face sound. Same attitude, same fun!

There's a lot of NWOBHM-people who we met and who are not with us anymore. This album will be dedicated to all of them, including Mr. Tsangarides who did our second album."


ROXXCALIBUR – Gems Of The NWOBHM
Dienstag, November 10, 2015
The "gold diggers" are back. Their third album, "Gems Of The NWOBHM" is definitely no obscurity for people in the know. Even though the majority of worldwide metal fans may not be familiar with all of the selected songs in their original form, it remains an incredibly good metal CD, which, although it has the spirit of the early Eighties within it, is still made for the here and now. Liner notes by author and NWOBHM expert John Tucker ("Neat & Tidy – The Story of Neat Records", "Suzie Smiled" etc.). Cover artwork by Rodney Matthews (Diamond Head, Praying Mantis, Tygers Of Pan Tang, Bitches Sin, Magnum, Nazareth etc.). Mastered by Eroc, known not only for his role as drummer of the Krautrock legends Grobschnitt but also as studio man for his remastering of classics of the Sixties and Seventies.

The album includes the CD only track "Rip Off" and comes in a slipcase including a sticker and a poster.
Tracklisting:
Original by LEGEND 1982

Original by SATAN'S EMPIRE 1981

Original by TAURUS 1980

Original by BASHFUL ALLEY 1980

Original by VIRTUE 1987

Original by TRESPASS 1980

Original by MYTHRA 1981

Original by SPLIT BEAVER 1981

Original by MARQUIS DE SADE 1981

Original by WHITE SPIRIT 1980

Original by ARAGORN 1981

Original by BUDGIE 1980

Original by SMOKIN' ROADIE 1983

Original by FIST 1980
Total playing time 70:56
Soundcloud playlist – Free single download:
Video Album Trailer
Third album of the successful NWOBHM Tribute band.
Band exist of members/ex-members of a.o. Manilla Road, Masters of Disguise, Jameson Raid, Savage Grace, Viron
Excellent live band! Played the Rock Hard, Bang Your Head & Keep It True Festivals + shows with a.o. Saxon, Demon, Blitzkrieg, Praying Mantis, Tygers Of Pan Tang…
Liner Notes by John Tucker, Rodney Matthews and the original bands
Cover Artwork by Rodney Matthews
Mastered by Eroc
20. November 2015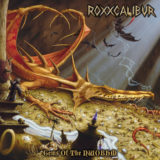 ROXXCALIBUR: Release date set for new album "Lords Of The NWOBHM"
Dienstag, Mai 24, 2011
The long-awaited, second album from Roxxcalibur, "Lords Of The NWOBHM" is already causing something of a stir. Even only months after the release of their debut album, "NWOBHM For Muthas" (April 2009) the fans were demanding another dose in the form of a CD. But the "Keepers of the Grail of NWOBHM" weren't prepared to rush things. "To pick the right songs which also suit us as musicians, from a pool of first-class NWOBHM pearls, needs just as much time as it does to write our own songs", explains singer Alexx Stahl. The band had planned to demonstrate an even wider view and more extreme selection of the New Wave of British Heavy Metal on "Lords Of The NWOBHM" than they did on their debut. "The finished CD shouldn't just sound like the output of a coverband but should be as though it had come from one balanced mould.".
ROXXCALIBUR – Lords Of The NWOBHM
Freitag, Mai 20, 2011
Roxxcalibur are bringing songs from such cult names as MORE, SATAN, CRYER, QUARTZ, OXYM, SPARTA, SARACEN, TOKYO BLADE, BLOOD MONEY, HOLLOW GROUND, WITCHFYNDE, but also VENOM, SAXON and TYGERS OF PAN TANG back to the daily listening habits of the new millennium. Co-produced by Chris Tsangarides (Judas Priest, Black Sabbath, Yngwie Malmsteen, Thin Lizzy etc.).
Tracklisting:
Total Playing Time 60:40

Co-produced by Chris Tsangarides (Judas Priest, Black Sabbath, Yngwie Malmsteen, Thin Lizzy etc.)
15 Tracks incl. the unreleased and never completed Saxon Song "Lift Up Your Eyes"
Liner notes by John Tucker (author of Suzie Smiled and Biff Byford's Biographie) and others
Cover artwork by Rodney Matthews (Praying Mantis, Magnum, Tygers Of Pan Tang etc.)
First edition in slipcase with bonus DVD, poster and sticker
Members of Savage Grace, Griffin, Thunder Rider, Abandoned
20. May 2011