Cristiano Filippini's FLAMES OF HEAVEN album trailer #2
Samstag, November 21, 2020
Finally here we are! Today is the day! We are proud to present Cristiano Filippini's FLAMES OF HEAVEN debut album "The Force Within", a record full of epicness, power, romanticism, as well as vintage and modern feeling at the same time.

The metal and hard rock side is the core of the sound, but the keyboards and an orchestra, used with mastery and class, give the music an unique mix.
A perfect balance between furious drums, virtuose guitar solos, epic and powerful vocals, sweet and dramatic strings, majestic horns… – all these elements will bring you to another world.

And when you see three guardian angels with flaming swords over the city, that will be the time to discover "The Force Within".

---
Cristiano Filippini's FLAMES OF HEAVEN are:
– Cristiano Filippini – lead & rhythm guitars, keyboards, arrangements, orchestrations
– Michele Vioni (Michele Luppi's Heaven, Blaze Bayley, Edu Falaschi) – lead & rhythm guitars, acoustic guitars
– Marco Pastorino (Temperance) – lead & backing vocals
– Giorgio Terenziani (Arthemis) – bass
– Paolo Caridi (Geoff Tate, David Ellefson) – drums

---
Produced by Cristiano Filippini
Mixed by Matias Kupiainen (Stratovarius) at 5by5 Studios, Finland
Mastered by Mika Jussila at Finnvox-Studios, Finland

---
Streaming/Download HERE
Order the album HERE

---
Enjoy the second official trailer from the album!!!!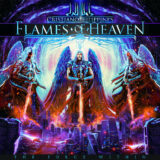 LIONSOUL – Welcome Storm
Donnerstag, Juni 15, 2017
Fans of European classical power metal will find ten great metal songs on "Welcome Storm", all of which glowing with impressive power chords and impressive vocals. Now and again certain American influences creep through. LionSoul are definitely a positive exception on the Italian scene – they stay away from the typical scheme of things which take the form of very high vocals, fast riffing and classical-bombastic, exaggerated keyboard parts. "Welcome Storm" is power metal as it should be: heavy, lively, raw and still melodic.
Tracklisting:
Total playing time 46:11
Video Album Trailer
"Next Genesis" video
Second album by the power metal band.
Style in the tradition of European power metal bands with high levels of melodics.
Live shows with Gamma Ray, Iron Savior, Kissin' Dynamite etc.
First class, clear, ass-kicking production setting a perfect base for the twin guitars.
Produced, engineered, mixed & mastered by Alessandro Del Vecchio (Edge Of Forever, Hardline, Graham Bonnet Band, Lionville, Sunstorm).
23. June 2017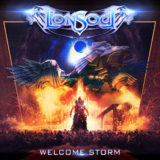 BURNING BLACK – Remission Of Sin
Donnerstag, September 11, 2014
Nothing actually new can be expected in this genre, the guys of BURNING BLACK told themselves, you just need to do it better than the competition. And with "Remission Of Sin" they have a particularly lucrative Ace up their sleeves, one which will immediately draw in not only the Euro-Traditionalists but also US power metal fans, as it is hovering between European and American influences and uniting the very best of the two. Excellent vocals and aggressive riffing is just as important to the band as the dressed-up-to-the-nines melody and rhythm parts, which are such recognizable parts of the BURNING BLACK sound.



Tracklisting:
Total playing time 48:59
excellent, timeless power metal with superb melodies
for fans of Judas Priest, Hammerfall, Brainstorm, Malice
huge live experience from shows with U.D.O, Circle II Circle, Primal Fear, Rage, etc..
tremendous reviews of their previous releases
10. October 2014
BLACK MAJESTY confirmed for Masters Of Rock 2012
Dienstag, Januar 3, 2012
Australian melodic power metal band Black Majesty have been announced as part of the 2012 Masters of Rock Czech Republic festival. This will be Black Majesty's only Czech Republic show during their 2012 European tour where they will be promoting their new album (produced by Roland Grapow – Masterplan) due for release in May 2012. Other acts already confirmed for the M.O.R. 2012 festival include Thin Lizzy, Stratovarius, Edguy, Gothard, Kamelot, Arch Enemy, Within Temptation, Firewind, Unisonic and Arakain amongst many others.
BLACK MAJESTY TO WORK WITH ROLAND GRAPOW FOR NEW ALBUM & UPCOMING BLIND GUARDIAN TOUR DATES
Donnerstag, August 25, 2011
Australian melodic power metal band Black Majesty will begin recording their fifth album with Roland Grapow (Masterplan) at Grapow Studios in Slovakia in October 2011. The new album is scheduled to be released in June 2012. Some of the song titles set to appear on the new album include The Fallen, Edge Of The World, The Killing Hand, Lykan and Journey To The Soul.
Other news sees Black Majesty set to support Germany's Blind Guardian on their upcoming Australian tour. Live dates include:
30th Sept. 2011 – The Factory Theatre (all ages) – Sydney, Australia
2nd Oct. 2011 – Bilboard (over 18's), Melbourne, Australia
3rd Oct. 2011 – Bilboard (over 18's), Melbourne, Australia
BLACK MAJESTY to support Blind Guardian
Dienstag, Mai 24, 2011
Black Majesty will support Germany's Blind Guardian on both of their upcoming  Australian tour dates. Australia's Eyefear will also be on the bill making both shows a huge bill of Power Metal.
Friday 30th September 2011 – The Factory Theatre (All Ages), Sydney, Australia
Sunday 2nd October 2011 – Bilboard, Melbourne, Australia