New FireWölfe album & video released!
Freitag, November 19, 2021
The new FireWölfe album "Conquer All Fear" and the videoclip for "Candle In The Dark" are released today!

The band is excited to share it's heaviest album yet with Metalheads everywhere!

The album features new vocalist Freddy Krumins (ex-James Byrd's Atlantis Rising) on lead vocals as well as newcomers Marco Bicca (Pamela Moore, The Element, A Dying Planet) and guitarist Michael David (TKO), FireWölfe veteran Bobby Ferkovich (also Pamela Moore, Presto Ballet, Metal Church, Heir Apparent) on bass and band founder Nick Layton (ex-Q5) on guitars.

"Conquer All Fear" delivers power and melody throughout the album, from mid tempo powerhouses like "Vicious As The Viper" and "Magic (In Your Mind)" to uptempo skull crushers like "Pedal To Metal" and "Swallow My Pride", the songs keep coming at you in waves of metal glory. The album features the "Evil Eye Trilogy", the centerpiece of the album that is a collection of 3 songs that will take you on a metal journey that will have you head banging with delight.

"Conquer All Fear" also slows down occasionally as with the title track and the new video for the song "Candle In The Dark". This is a melodic, powerful tune that finds the band exploring heavy atmosphere and moody chord progressions that feature a killer vocal performance by Freddy Krumins and a great sing along chorus.

"Conquer All Fear" is produced & mastered by Bart Gabriel (Crystal Viper, Jack Starr, Jag Panzer, Hexx). Mixed by Cederick Forsberg (Crystal Viper, Marta Gabriel, Rocka Rollas, Blazon Stone). Cover artwork by Dusan Markovic (Dragony, Symphonity, Jag Panzer, Thor, The Sound Of Thunder, Death Dealer).

Check out FireWölfe's new album "Conquer All Fear" today and get ready for a spellbinding Heavy Metal experience full of excellent performances from the band and a killer collection of songs that are sure to become fan favorites! Rock on!

Audio samples & Videos: HERE

CD & Streaming/Download: HERE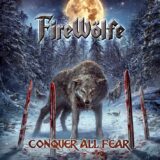 FireWölfe releases new single & video!
Samstag, Oktober 30, 2021
FireWölfe is excited to release their 2nd single and video entitled "Pedal To Metal" from their upcoming album "Conquer All Fear" (out on Nov. 19th).

Singer Freddy Krumins describes "Pedal To Metal" as an "adrenaline charged, attitude filled romp that needs no further explanation. Just plenty of volume and visualization of the open road."

Musically the aggressive guitar riffing brings to mind uptempo good time Rock'n'Roll like classic Van Halen, while the vocals, bass and drums are full throttle throughout. The only slight break in the action is after the ripping guitar solos during a half time manic breakdown that sounds like Freddy K. is losing his mind!

Indeed, "Pedal To Metal" has a simple message of putting your foot on the gas and getting where you want to go in life—so start your engines and get ready for a wild ride!

As the lyric says "never low on fuel, that's the only rule!"

Audio samples & Videos: HERE

CD & Streaming/Download: HERE