CRISTIANO FILIPPINI'S FLAMES OF HEAVEN – First single / video released
Freitag, Oktober 23, 2020
And finally here we are!

This is the first single and videoclip taken from the upcoming album "The Force Within" out on November 20th.

"We Fight For Eternity" is a power metal song full of symphonic epic arrangements and catchy melodies! Are you brave enough to join the angels army to fight evil spells and dangerous witches? Are you smart enough to distinguish good from evil trough flashbacks and time travels? – If the answer is yes… – just play it!

---
You can hear the audio version on all your favourite platforms, including Spotify, Apple Music, amazon and more! Click HERE for more info.

If you pre-order the album on amazon or iTunes, you will receive the single instantly, too!

---
Line-Up:
Cristiano Filippini – lead & rhythm guitars, keyboards, arrangements, orchestrations
Michele Vioni – lead & rhythm guitars, acoustic guitars
Marco Pastorino – lead & backing vocals
Giorgio Terenziani – bass
Paolo Caridi – drums
---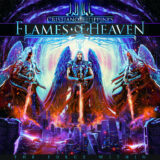 Cristiano Filippini's FLAMES OF HEAVEN sign with Limb Music
Donnerstag, Oktober 15, 2020
Limb Music is very proud to announce the signing of Cristiano Filippini's FLAMES OF HEAVEN for their debut album "The Force Within", out on November 20th on all digital platforms and on CD with a CD only bonus track.
"The Force Within" is a great mix of Epic Power Metal and Hard Rock/80s AOR with electronic influences and symphonic music played by a real orchestra. Great melodies, epic choirs, romantic ballads with a huge, modern and powerful production.
Mixed at 5by5 Studio by Matias Kupianen (Stratovarius) and mastered at Finnvox Studio by Mika Jussila (Nightwish, Stratovarius, Avantasia).
Cover, logo and artwork by Stan W. Decker (Dragonforce, Timo Tolkki's Avalon, Rage, Masters Of Disguise).
Be prepared for an epic, melodic and powerful album….so stay tuned!!!!
---
Tracklisting:
01. The Force Within
02. We Fight For Eternity
03. Far Away
04. Against The Hellfire
05. Always With You
06. Dying For Love
07. Finding Yourself
08. Lightning In The Night
09. Missing You
10. Moonlight Phantom
11. The Angel And The Faith
12. Ab Angelis Defensa
CD only Bonus Track:
13. Missing You (Acoustic Version)
---
Line-Up:
Cristiano Filippini – lead & rhythm guitars, keyboards, arrangements, orchestrations
Michele Vioni – lead & rhythm guitars, acoustic guitars
Marco Pastorino – lead & backing vocals
Giorgio Terenziani – bass
Paolo Caridi – drums
---
Follow Cristiano Filippini's FLAMES OF HEAVEN:
Homepage
Facebook
Instagram
The Force Within