New SYMPHONITY single & video: Marco Polo (part 2) – Crimson Silk
Freitag, November 29, 2019
SYMPHONITY are back with their first single and videoclip in the new line-up with both, Antonio Abarte (PERSEUS) and Mayo Petranin (ex-SIGNUM REGIS), on lead vocals.

"Crimson Silk" features the guest musicians Marek "Ashok" Šmerda (CRADLE OF FILTH), Herbie Langhans (AVANTASIA) and Ladislav Šiška.

The production as well as the arrangements were handled by Libor Křivák. The song was mixed by Mikko Karmila & mastered by Mika Jussila at the Finnvox Studios, Finland (NIGHTWISH, STRATOVARIUS).

Finally, the amazing cover artwork was done by Dušan Marković.


The audio version is available on most major digital streaming & download sites, e.g.:
Bandcamp
Apple Music/iTunes
Amazon.de
Amazon.co.uk
Amazon.fr
Amazon.it
Amazon.es
Amazon.com
Spotify
Deezer
SYMPHONITY are: 

Antonio Abate – Lead Vocals 

Mayo Petranin – Lead Vocals 

Libor Křivák – Guitars, Keyboards 

Tomáš Sklenář – Bass 

Radim Večeřa – Drums
Follow SYMPHONITY:
Homepage
Facebook
Instagram
Crimson Silk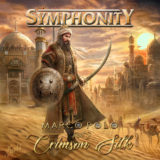 ANCIENT BARDS reveal tracklist of their upcoming release
Freitag, November 9, 2018
"Origine – The Black Crystal Sword Saga Part 2" will be released on January 25th, 2019, and will enclose ten epic songs plus one CD only bonus track.

The Deluxe Edition, sold only through Ancient Bards' successful crowdfunding campaign, will consist of the 10 tracks in both full band, as well as orchestral versions.

TRACKLIST:
01. Origine
02. Impious Dystopia
03. Fantasy's Wings
04. Aureum Legacy
05. Light
06. Oscurità
07. Titanism
08. The Hollow
09. Home of the Rejects
10. The Great Divide

CD only bonus track:
11. Eredità Aurea
Origine (The Black Crystal
Sword Saga Part 2)

New ANCIENT BARDS album release announced
Freitag, November 2, 2018
The long-awaited new installment of The Black Crystal Sword Saga will be released on January 25th, 2019.

Symphonic metallers Ancient Bards are back with a new, exciting chapter of The Black Crystal Sword Saga. Origine is everything you've been waiting for: heavy riffs, breathtaking solos, pompous orchestrations and the unmistakable powerful voice of Sara will capture you and take you to the magic lands of symphony in a journey so extraordinary it'll be worth the wait.
Trailer music © Daniele Mazza 2018, all rights reserved
Origine (The Black Crystal
Sword Saga Part 2)
DRAGONY "Masters Of The Multiverse" released!
Freitag, Oktober 12, 2018
The day is finally here – DRAGONY's third full-length album MASTERS OF THE MULTIVERSE is available now!

Once again the band would like to thank all their friends and colleagues who contributed to this album with their talent, as well as the crowdfunding supporters and fans all around the world for sticking with them throughout the years and making this album possible!

Watch the trailer and videos down below!

Get your copy today, and make sure to catch DRAGONY on tour with SERENITY and VISIONS OF ATLANTIS on the following dates:
23.10.2018 AT – Kufstein*
24.10.2018 CH – Aarburg / Musigburg
25.10.2018 DE – Weinheim / Cafe Central
26.10.2018 DE – Cologne / MTC
27.10.2018 NL – Enschede / Atak
28.10.2018 NL – Leiden / Gebr. De Nobel
29.10.2018 DE – Stuttgart / clubCANN
30.10.2018 FR – Lyon / CCO
31.10.2018 IT – Mantova / Arci Tom
01.11.2018 AT – Graz / Explosiv
02.11.2018 HU – Budapest / Dürer Kert
03.11.2018 AT – Vienna / Szene Wien
08.12.2018 AT – Vienna / Szene Wien**

* without SERENITY
**Album release show feat. WAR KINGS, ILLUMINATA & TITAN KILLER

Get the album at (amongst others:)
Forever Rock: http://t1p.de/o4d8
ebay: http://t1p.de/kghu
iTunes/Apple Music: https://itunes.apple.com/mt/album/1436541342
Amazon.de: https://www.amazon.de/dp/B07HFK25B1
Bandcamp: https://dragony.bandcamp.com
Masters Of The Multiverse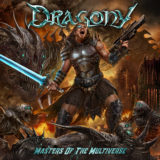 SYMPHONITY – King Of Persia
Dienstag, August 30, 2016
The Czech Republic has until now never been a shining light on the international Heavy Metal scene. Now and again a band would appear but then disappear again shortly afterwards. That, however, does not apply to SYMPHONITY, a union of talented Czech, Slovakian and German musicians who have just recorded their third album, "King Of Persia". The band can be classified in the classical-symphonic genre, plays at a very high international standard and easily keeps pace with established bands such as Stratovarius, Rhapsody, Dionysus, Thunderstone and Sonata Arctica. Up-tempo hymns with high classical melodies, complex guitar parts played with virtuosity, unmistakeable vocals and memorable melodies are the characteristics of this, the band's third album. Their previous work, "Voice from the Silence" had already impressed both the press and fans and came highly recommended listening. 2016 is sure to be a successful year for SYMPHONITY.

"King Of Persia" contains all the ingredients that fans of Sonata Arctica, Stratovarius, Rhapsody and Thunderstone expect from a high quality album: a build-up of broad choruses, voluminous melodies, galloping guitar attacks as well as neo-progged 6-string inserts. Add to that the vocals, which will send shivers down the spine of voice freaks. "In The Name Of God" with its classical guitar tracks will get the headbangers active and the melodies are irresistable and simply force you to sing along with them. The seven minute long "Children Of The Light" changes pace, mood and progressive claims – it's a fast paced firework display of inspiration and complexity. The title track, around nine minutes long, is the core of the album and shows off the band's clear talents for writing exciting songs and to put them to music in an equally impressive manner. Whilst "Siren Call" curls through your ears in a ballad-like way, "Live To Tell The Tale" is almost a rock number. "The Choice" will certainly thrill Avantasia fans. You can see, or rather you can hear that SYMPHONITY have managed to expand their musical field without having reduced the level of their basic influences. "King Of Persia" is a "Must Have" album for fans of Melodic Heavy Metal in 2016.
Tracklisting:
Total playing time 53:28
For Fans of SONATA ARCTICA, STRATOVARIUS, DIONYSUS, RHAPSODY, THUNDERSTONE.
With Olaf Hayer (AINA, LUCA TURILLI, CHRYZTYNE, DIONYSUS, TREASURE SEEKER etc.) the band has one of the most expressive German Heavy Metal vocalists.
Introducing the voice of Herbie Langhans – the new star of the latest AVANTASIA album and world tour.
Cover artwork by Andreas Marschall (BLIND GUARDIAN, KREATOR, RUNNING WILD, HAMMERFALL, etc.).
The band has already opened for NIGHTWISH.
Album mixed by Sascha Paeth and mastered by Miro, Wolfsburg, Germany.
30. September 2016
FOGALORD – A Legend To Believe In
Donnerstag, Oktober 4, 2012
"A Legend To Believe In" comes alive through its hymn-like, epic songs. The orchestral sections of the album are fabulous and not at all intrusive, while the guitar work on all twelve tracks is of the highest standard. Fans of classical-speed, highly melodic Metal with impressive vocals will have no excuse to pass over this first class album.
Tracklisting:
Total playing time 54:17
Excellent debut album of the Italian band with numerous well-known guest musicians
(RHAPSODY, ANCIENT BARDS, LABYRINTH, …)
Impressively musical concept album greatly appealing to fans of RHAPSODY OF FIRE, MANOWAR, LUCA TURILLI'S DREAMQUEST as well as NIGHTWISH
05. October 2012
ANCIENT BARDS – The Alliance Of The Kings
Freitag, März 12, 2010
"The Alliance Of The Kings" will make those very happy who love epic-melodic, classic arrangements, and appreciate a sound hovering between Nightwish, Rhapsody, Epica, and Delain. ANCIENT BARDS easily tackle that task with their versatile mix of Power Metal elements and old-school classic style, their songs brimming with zest and classy guitars.
Tracklisting:
Total playing time: 58:04
for fans of Nightwish, Rhapsody und Epica, Delain
live performances with Turisas, White Skull, Almah, Domine, etc.
epic, melodic, classical arrangements delivered with excellent sound
12. Mar 2010