ANCIENT BARDS – Soulless Child
Freitag, November 18, 2011
ANCIENT BARDS kind of symphonic / epic Metal is sophisticated and classy. The intoxicating mix of intense choirs, hefty guitars, classic, epic keyboard parts and ultra catchy melodies grant an extraordinary listening experience. Artwork by Felipe Machado Franco (Rhapsody, Blind Guardian etc…). For fans of Nightwish, Rhapsody Of Fire, Epica, Delain, and Edenbridge.
Tracklisting:
Total playing time 66:32
Epic-melodic, classic arrangements with excellent sound.
Interesting story/plot, combined with sophisticated song writing.
Worldwide top reviews regarding the debut album "The Alliance Of The Kings".
Live performances with Turisas, White Skull, Almah, Domine, Heidevolk, Korpiklaani, Eluveitie
etc…
For fans of Nightwish, Rhapsody Of Fire, Epica, Delain, and Edenbridge.
18. Nov 2011
JACK STARR'S BURNING STARR – Land Of The Dead
Freitag, November 11, 2011
Metal as metal should be! JACK STARR (ex-Virgin Steele) makes it clear that Eighties metal needn't sound musty or faded, but instead, with unbounded passion, high-quality songwriting and a kick-ass production, it can hold its head up high today without the stain of clichees! Guest musicians: Ross The Boss & David Shankle (both ex-Manowar).
Tracklisting:
Total playing time 60:13
Excellent new Power Metal album of the ex-Virgin Steele guitarist.
Powerful combination of classical Eighties Metal and memorable hymns.
With ex-Manowar musicians.
Jack Starr can look back on a first-class back catalog from the Eighties.
Amazing front cover artwork by Ken Kelly (Kiss, Rainbow, Manowar).
For fans of Virgin Steele, Riot, Holy Mother.
11. Nov 2011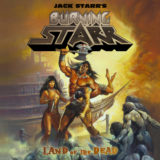 SANDSTONE – Cultural Dissonance
Freitag, Oktober 28, 2011
Bruce Dickinson called the predecessor: "The most impressive album to come out of Ireland for years". Sandstone continue to display the clever mixture of power and progressive elements with a high standard of melodies (think Fates Warning, Queensryche and even Iron Maiden), yet the new material comes across much straighter, heavier and more in the direction of Pagan's Mind, Symphony X and Vanden Plas.
Tracklisting:
Total playing time 47:10
Young Irish band which gained an excellent name and reputation on the underground scene.
Varied mix of power metal, progressive rock and melodic metal. Characterized by superb melodies and powerful guitars.
Excellent reviews for their previous releases.
For fans of Pagan's Mind, Symphony X, Queensryche, old style Fates Warning.
28. Oct 2011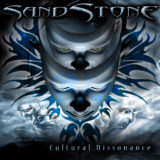 ANCIENT BARDS – Soulless Child
to be released in November 2011
Donnerstag, September 15, 2011
The successor of ANCIENT BARD's highly acclaimed album "The Alliance Of The Kings" is set to be released on November 18th., 2011. The album will future the second part of the "Black Crystal Sword Saga". Like "The Alliance Of The Kings", the new album "Soulless Child" will make those very happy who love epic-melodic, classic arrangements, and appreciate a sound hovering between Nightwish, Rhapsody, Epica, and Delain.


BLACK MAJESTY TO WORK WITH ROLAND GRAPOW FOR NEW ALBUM & UPCOMING BLIND GUARDIAN TOUR DATES
Donnerstag, August 25, 2011
Australian melodic power metal band Black Majesty will begin recording their fifth album with Roland Grapow (Masterplan) at Grapow Studios in Slovakia in October 2011. The new album is scheduled to be released in June 2012. Some of the song titles set to appear on the new album include The Fallen, Edge Of The World, The Killing Hand, Lykan and Journey To The Soul.
Other news sees Black Majesty set to support Germany's Blind Guardian on their upcoming Australian tour. Live dates include:
30th Sept. 2011 – The Factory Theatre (all ages) – Sydney, Australia
2nd Oct. 2011 – Bilboard (over 18's), Melbourne, Australia
3rd Oct. 2011 – Bilboard (over 18's), Melbourne, Australia
FLASHBACK OF ANGER sad loss…  
Dienstag, Juni 21, 2011

We just received the sad message that Francesco Masini, bass player of FLASHBACK OF ANGER, lost his battle with cancer on June 18th. Our condolences go out to the family and friends of a man gone way too early.
ROXXCALIBUR to play KIT Festival in 2012
Mittwoch, Juni 1, 2011
After the huge success of the NWOBHM-Anniversary Show at KEEP IT TRUE Festival 2009, where numerous original singers of the NWOBHM have shared the stage with ROXXCALIBUR  (e.g. Enid Williams (Girlschool), Brian Ross (Satan/Blitzkrieg), Dave Hill (Demon) and many more), there will be another NWOBHM Anniversary Show at KEEP IT TRUE Festival 2012.
The NWOBHM-Anniversary Show at KIT 2009 brought not only a second spring to the NWOBHM and its bands, but it also established the then-newcomers ROXXCALIBUR with their debut album "NWOBHM For Muthas" on the metal scene. For their dedication to the NWOBHM and its original bands, ROXXCALIBUR are highly respected ever since. … read all
ROXXCALIBUR: Release date set for new album "Lords Of The NWOBHM"
Dienstag, Mai 24, 2011
The long-awaited, second album from Roxxcalibur, "Lords Of The NWOBHM" is already causing something of a stir. Even only months after the release of their debut album, "NWOBHM For Muthas" (April 2009) the fans were demanding another dose in the form of a CD. But the "Keepers of the Grail of NWOBHM" weren't prepared to rush things. "To pick the right songs which also suit us as musicians, from a pool of first-class NWOBHM pearls, needs just as much time as it does to write our own songs", explains singer Alexx Stahl. The band had planned to demonstrate an even wider view and more extreme selection of the New Wave of British Heavy Metal on "Lords Of The NWOBHM" than they did on their debut. "The finished CD shouldn't just sound like the output of a coverband but should be as though it had come from one balanced mould.".