BURNING BLACK – Remission Of Sin
Donnerstag, September 11, 2014
Nothing actually new can be expected in this genre, the guys of BURNING BLACK told themselves, you just need to do it better than the competition. And with "Remission Of Sin" they have a particularly lucrative Ace up their sleeves, one which will immediately draw in not only the Euro-Traditionalists but also US power metal fans, as it is hovering between European and American influences and uniting the very best of the two. Excellent vocals and aggressive riffing is just as important to the band as the dressed-up-to-the-nines melody and rhythm parts, which are such recognizable parts of the BURNING BLACK sound.



Tracklisting:
Total playing time 48:59
excellent, timeless power metal with superb melodies
for fans of Judas Priest, Hammerfall, Brainstorm, Malice
huge live experience from shows with U.D.O, Circle II Circle, Primal Fear, Rage, etc..
tremendous reviews of their previous releases
10. October 2014
MINOTAURAUS anniversary show announced
Dienstag, September 9, 2014
German press release:
20 Jahre Stierschädel – Minotaurus feiert Jubiläum!
Während der Minotaurus im Altertum als furchteinflößende Gestalt halb Mensch halb Stier sein Unwesen trieb, hat er heute als Maskottchen der gleichnamigen Aschaffenburger Folk-Metal Band einen wesentlich angenehmeren Job. Mit insgesamt acht Studioalben hat sich die sechsköpfige Truppe in den vergangenen Jahren ein solides Repertoire aufgebaut, das sie auf der Bühne mit ungebrochenem Enthusiasmus in Rüstungen und Gewandungen darbietet. Das authentische Gesangsduo an der Spitze wird flankiert von einem kraftvollen Instrumentalgespann und entführt das Publikum in eine faszinierende Welt aus Mythen, Legenden und Heldengeschichten. Mit dem Schlachtruf "Holla die Waldfee" in den Kehlen, mal düster, mal fröhlich und niemals zu ernst präsentiert Minotaurus eine unvergleichliche Bühnenshow – und das nicht nur für Metal- und Mittelalterfans. Am Samstag, den 18. Oktober feiern die Minotauren ihr zwanzigjähriges Bühnenjubiläum in der Turnhalle Aschaffenburg Leider (TUS) mit zahlreichen Gästen und Überraschungen. Und am Ende das Horn sie heben!
FIREFORCE announce line-up change
Donnerstag, Juli 31, 2014
Fireforce have two new band members: First of all drummer Sepp Coeck replaces Christophe De Combe, who resigned due to personal reasons. The second newcomer is guitarist Thierry van der Zanden, who replaces Yves Vermeersch (see his statement below). We wish them both good luck in the band and the metal will rage on! Come and see them at the Fireforce European tour with Mystic Prophecy and Crystal Tears. Find the tourdates at the site!

"It is with regret that I have to announce my departure from Fireforce.
I've had great moments, gigs and experiences and have met some awesome people on the road, but due to personal circumstances I can no longer guarantee my 100% dedication to the band.
After almost one and a half years of touring with these guys + releasing a new album, it's clear to me that Fireforce is ready for the big leagues and thus needs full devotion from all its musicians to keep pushing forward. While it's been a very hard decision for me, it was the right one to make in the band's best interest and so I've passed the torch to a great and talented guitarist: Thierry van der Zanden.
I want to thank my brothers from FF for all the great times we shared and for their understanding (From the bottom of my heart, I wish you all the best in the future!), the crew, the wives, R.D. Liapakis and Christian Schmid for their great work on producing the "Deathbringer" album and last but definitely not least, all you guys and girls I have met during my time with the band! You all Rock!!
As for me, I'm crawling back in my studio to see what the future will bring…
Rocking Greets,
Yves Vermeersch"
New signing: ASTRALION
Donnerstag, Juli 10, 2014
We are proud to announce the signing of ASTRALION. The finnish band with vocalist Ian E. Highhill (Olympos Mons), featuring members of bands such as The Addication and formerly of HumanGod, plays straight Melodic Power Metal and will be a perfect addition to our artist roster. The release is scheduled for fall of 2014. To say it in the bands words: Forget the dragon, forget the sword here's true power from the chord!
JACK STARR'S BURNING STARR: new video released
Donnerstag, Juni 26, 2014
U.S. Power Metal act JACK STARR'S BURNING STARR has released the "Sands Of Time" video clip. The song is taken from band's latest studio album "Land Of The Dead" and is a foretaste of JACK STARR'S BURNING STARR's recently announced short European tour.

On July 18 the band will appear in the 27 Club in Melbourne, Florida, and on September 26, JACK STARR'S BURNING STARR will appear at the "80s In The Park festival" in Melbourne, Florida together with GREAT WHITE, ZEBRA, FASTER PUSSYCAT and others.

JACK STARR'S BURNING STARR is currently working on a new studio album titled "Stand Your Ground" with producer Bart Gabriel, who helmed "Land Of The Dead" and has previously worked with SACRED STEEL, CRYSTAL VIPER and SABATON. JACK STARR'S BURNING STARR was formed in 1985 by ex-VIRGIN STEELE guitarist Jack Starr. After recording four albums in the '80s, the band returned with a new lineup featuring Starr alongside Ned Meloni (bass; ex-JOE LYNN TURNER, DEVIL CHILDE, PHANTOM LORD), Kenny "Rhino" Earl (drums, ex-MANOWAR) and Todd Michael Hall (vocals, also in RIOT V), and released the well-received comeback album titled "Defiance" in 2009. The touring lineup is completed by CRYSTAL VIPER frontwoman Marta Gabriel on rhythm guitar.


FireWölfe sign with Limb Music
Dienstag, Juni 24, 2014
Limb Music is proud to announce the signing of FireWölfe! "We Rule The Night" includes ten heart-pounding, guitar-shredding, fist-pumping, melodic metal anthems and is scheduled for a September 2014 release. The sophmore album of the band, consisting of David Fefolt (Forgotten Realm, Hawk, Valhalla) – lead vocals, Nick Layton – guitar, Jay Schellen (Asia, Hurricane, Unruly Child) – drums and Bobby Ferkovich (Pamela Moore Band, Presto Ballet) on bass, has been mixed by John Payne (Asia) together with Jay Shellen and mastered by Maor Appelbaum (Halford, Malmsteen). The artwork has been created by Eliran Kantor (Testament).
31. October 2014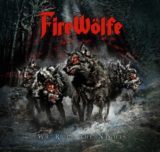 FIREFORCE album being released today
Donnerstag, Juni 19, 2014
The new FIREFORCE album "Deathbringer" will be released today via Limb Music. It is available on CD and as digital download. CD and shirts can be purchased here. FIREFORCE play Combat Power Metal. Their best position at Amazon.de Power & True Metal Bestseller-Ranking is #16 and at Amazon.co.uk it is #25.
20. June 2014