GHOST MACHINERY tribute-single with special quests online
Dienstag, April 17, 2012
Finnish heavy metal messenger Ghost Machinery pay tribute to two great Finnish traditional heavy metal bands that have been paving the way to modern day melodic metal. From the northern part of Finland comes Zero Nine with 25 years of hard rocking and 10 albums under their belt. In southern Finland Ironcross was founded in 1976 and the band recorded 3 stunning albums that have not had the publicity they should have had.
The super-catchy Zero Nine song called "Never Stop Runnin'" can be found on the 'White Lines' album. On this one the special quest is an original member from Zero Nine, guitarist Timo Käsmä who plays one hell of a solo on this tribute.
… read all
BLACK MAJESTY live shows announced
Donnerstag, März 22, 2012
After spending the last few months recording the new Black Majesty album 'Stargazer', the band have announced a few upcoming shows:
Friday 30th March 2012 – The Brisbane Hotel – Tasmania, Australia part of the Ampocalypse 2 mini fest
Friday 4th May 2012 – Central Club Hotel – Melbourne, Australia
Thursday 17th May 2012 – The Hifi Bar – Melbourne, Australia – supporting Tim Ripper Owens
Saturday 14th July 2012 – Masters Of Rock 2012 – Czech Republic
The album 'Stargazer' is tentatively slated for a May 2012 release – exact release date to be announced soon.
BLACK MAJESTY announce new album title
Donnerstag, Februar 2, 2012
Black Majesty have announced 'Stargazer' as the title of their new album due in May 2012. Black Majesty began recording drums back in October 2011 with Roland Grapow (Masterplan) at Grapow Studios in Slovakia and have since been busy in their homeland Australia laying down guitars and vocals. Roland Grapow will mix the album in the coming months.
SANDSTONE to support Tim Ripper Owens
Dienstag, Januar 3, 2012
Sandstone have been confirmed as the support act for Tim Ripper Owens European tour starting Sept 2012.
The band will be playing the following countries with more dates and venues to be announced soon:
METAL MESSIAH EU TOUR 2012
07 sept : Kuurne – Belgium
08 sept : Terneuzen – Holland
09 sept : Genk – Belgium
10 sept : Germany (Details soon)
11 sept : Germany (Details soon)
12 sept : Germany (Details soon)
13 sept : Germany (Details soon)
14 sept : Poland (Details soon)
15 sept : Warsaw – Poland
16 sept : Poland (Details soon)
17 sept : Switzerland (Details soon)
18 sept : Kosice – Slowakia
19 sept : CZ (Details soon)
20 sept : Cluj – Romania
21 sept : Bucharest – Romania
22 sept : Sofia – Bulgaria
23 sept : Serbia (Details soon)
24 sept : Hungary (Details soon)
25 sept : Austria (Details soon)
26 sept : Slovenia (Details soon)
27 sept : Italy (Details soon)
28 sept : Lyon – France
29 sept : Strasbourg – France
30 sept : Paris – France
BLACK MAJESTY confirmed for Masters Of Rock 2012
Dienstag, Januar 3, 2012
Australian melodic power metal band Black Majesty have been announced as part of the 2012 Masters of Rock Czech Republic festival. This will be Black Majesty's only Czech Republic show during their 2012 European tour where they will be promoting their new album (produced by Roland Grapow – Masterplan) due for release in May 2012. Other acts already confirmed for the M.O.R. 2012 festival include Thin Lizzy, Stratovarius, Edguy, Gothard, Kamelot, Arch Enemy, Within Temptation, Firewind, Unisonic and Arakain amongst many others.
ANCIENT BARDS – Soulless Child
Freitag, November 18, 2011
ANCIENT BARDS kind of symphonic / epic Metal is sophisticated and classy. The intoxicating mix of intense choirs, hefty guitars, classic, epic keyboard parts and ultra catchy melodies grant an extraordinary listening experience. Artwork by Felipe Machado Franco (Rhapsody, Blind Guardian etc…). For fans of Nightwish, Rhapsody Of Fire, Epica, Delain, and Edenbridge.
Tracklisting:
Total playing time 66:32
Epic-melodic, classic arrangements with excellent sound.
Interesting story/plot, combined with sophisticated song writing.
Worldwide top reviews regarding the debut album "The Alliance Of The Kings".
Live performances with Turisas, White Skull, Almah, Domine, Heidevolk, Korpiklaani, Eluveitie
etc…
For fans of Nightwish, Rhapsody Of Fire, Epica, Delain, and Edenbridge.
18. Nov 2011
JACK STARR'S BURNING STARR – Land Of The Dead
Freitag, November 11, 2011
Metal as metal should be! JACK STARR (ex-Virgin Steele) makes it clear that Eighties metal needn't sound musty or faded, but instead, with unbounded passion, high-quality songwriting and a kick-ass production, it can hold its head up high today without the stain of clichees! Guest musicians: Ross The Boss & David Shankle (both ex-Manowar).
Tracklisting:
Total playing time 60:13
Excellent new Power Metal album of the ex-Virgin Steele guitarist.
Powerful combination of classical Eighties Metal and memorable hymns.
With ex-Manowar musicians.
Jack Starr can look back on a first-class back catalog from the Eighties.
Amazing front cover artwork by Ken Kelly (Kiss, Rainbow, Manowar).
For fans of Virgin Steele, Riot, Holy Mother.
11. Nov 2011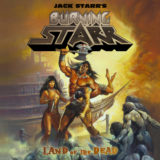 SANDSTONE – Cultural Dissonance
Freitag, Oktober 28, 2011
Bruce Dickinson called the predecessor: "The most impressive album to come out of Ireland for years". Sandstone continue to display the clever mixture of power and progressive elements with a high standard of melodies (think Fates Warning, Queensryche and even Iron Maiden), yet the new material comes across much straighter, heavier and more in the direction of Pagan's Mind, Symphony X and Vanden Plas.
Tracklisting:
Total playing time 47:10
Young Irish band which gained an excellent name and reputation on the underground scene.
Varied mix of power metal, progressive rock and melodic metal. Characterized by superb melodies and powerful guitars.
Excellent reviews for their previous releases.
For fans of Pagan's Mind, Symphony X, Queensryche, old style Fates Warning.
28. Oct 2011