EYEFEAR – The Inception Of Darkness
Donnerstag, Dezember 6, 2012
The album, which the Australians themselves describe as the most complex and darkest album in their history, glitters with excellent compositions, which straddle the entire width of the genre. "The Inception Of Darkness'" offers a near perfect synthesis of progressive and power metal with a refreshingly individual note and unmistakeable trademarks.
There is also the remarkable voice of Danny Cecati (ex-PEGAZUS), who again knows how to display the wide range of his world-class vocals to their best advantage. Mixed and mastered by Tommy Hansen (TNT, DAD, Helloween…).
Tracklisting:
Total playing time 58:32
07. December 2012
CIVILIZATION ONE – Calling The Gods
Dienstag, November 13, 2012
'Calling The Gods' lives by its great compositions masterly combined with finger-cracking riffs, profound melodies and illustrious vocals by Chitral "Chity" Somapala (Red Circuit, Ex-Firewind). The album includes three bonus tracks and a video-clip: "The Land In Flames". Produced by Markus Teske (Vanden Plas, Mob Rules, Red Circuit…).
Tracklisting:
Total playing time 45:52
Second album of the international Melodic Power Metal Band.
Excellent musicians of international reputation (RED CIRCUIT, FIREWIND, POWER QUEST, FARO, HEAVENLY, SECRET SPHERE, AVALON…).
Versatile live experience.
Produced by Markus Teske (VANDEN PLAS, SYMPHONY X, MOB RULES, RED CIRCUIT…).
16. November 2012
FOGALORD – A Legend To Believe In
Donnerstag, Oktober 4, 2012
"A Legend To Believe In" comes alive through its hymn-like, epic songs. The orchestral sections of the album are fabulous and not at all intrusive, while the guitar work on all twelve tracks is of the highest standard. Fans of classical-speed, highly melodic Metal with impressive vocals will have no excuse to pass over this first class album.
Tracklisting:
Total playing time 54:17
Excellent debut album of the Italian band with numerous well-known guest musicians
(RHAPSODY, ANCIENT BARDS, LABYRINTH, …)
Impressively musical concept album greatly appealing to fans of RHAPSODY OF FIRE, MANOWAR, LUCA TURILLI'S DREAMQUEST as well as NIGHTWISH
05. October 2012
VEXILLUM – The Bivouac
Donnerstag, September 20, 2012
VEXILLUM create their own style, mixing Dashing Euro-Power Metal with Celtic-/ Nordic-/Folk ingredients, which could be compared to bands such as RHAPSODY OF FIRE, LABYRINTH, HEIMDALL and VISION DIVINE, without, however, copying them. Mastered by R.D. Liapakis & C. Schmid (Mystic Prophecy, Devils Train, Orden Ogan).
Tracklisting:
Total playing time 67:43
VEXILLUM's music is a musically excellent synthesis of speed-melodic Power Metal with Folk-Nordic elements.
VEXILLUM can be compared with RHAPSODY OF FIRE.
Excellent reviews for their previous album.
On tour with Luca Turilli's Rhapsody in December 2012.
21. September 2012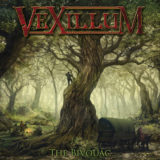 BLACK MAJESTY to appear at Woodstock South Africa
Dienstag, September 4, 2012
Australian melodic power metal band Black Majesty will play a one off special performance at Woodstock South Africa 2012 on Friday 28th of September 2012. Other bands set to appear include Fatal Smile (Sweden), Voz (USA), Piston Broke (Australia) and a bunch of South Africa's premier bands all showcasing on the Metal Stage. Checkout www.woodstocksa.com for further info.
Great loss at Limb Music Publishing
Dienstag, August 21, 2012
We here at Limb Music were shocked upon hearing the news that Rudy Holzhauer, our partner in Limb Music Publishing since 1990, was found dead at his home in Hamburg on August 16th at the age of 60. Words can not describe the loss not only of a partner, whose immense knowledge of the music business and his commitment in various organisations has been almost legendary, but a dear friend for many years. Rudy, you will be missed! Limb, Gerd & TC
BLACK MAJESTY – Stargazer
Donnerstag, Juli 5, 2012
Superb Power Metal with lots of melodies, finely spun prog elements and a huge portion of sheer joy and unbroken enthusiasm are the chief characteristics of "Stargazer". Roland Grapow (Masterplan, ex-Helloween) has again given the album a transparent, crystal clear mix, which even manages to enhance the great hymns by the Australians. Artwork by Dirk Illing (Scorpions, etc.)
Tracklisting:
Total playing time 48:30
Australia's premiere Melodic Power Metal act!
Diversified mixture of Judas Priest, Iron Maiden, Queensryche, Hammerfall, and Helloween.
Great reviews of their previous releases.
Album mixed and mastered by Roland Grapow (Masterplan, ex-Helloween).
Live Shows with Edguy, Blind Guardian, Hammerfall, Dragonforce, Saxon, Nevermore, Paul DiAnno, etc. and performances at the Wacken Open-Air Festival.
Cover artwork by Dirk Illing (Scorpions, etc.).
20. July 2012
Sad loss in the SYMPHONITY band camp
Dienstag, Juli 3, 2012
SYMPHONITY's bass player Tomas "Tom" Celechosky has unfortunately lost his battle with cancer on June 27th, 2012. We here at the Limb Music headquarters are deeply saddened and send our condolences to his wife Elena, his family and his band members, who lost not only a great musician but a dear friend for many years.
Visit SYMPHONITY's website at www.symphonity.com to see some of the memories shared by the band.