ROXXCALIBUR – Gems Of The NWOBHM
Dienstag, November 10, 2015
The "gold diggers" are back. Their third album, "Gems Of The NWOBHM" is definitely no obscurity for people in the know. Even though the majority of worldwide metal fans may not be familiar with all of the selected songs in their original form, it remains an incredibly good metal CD, which, although it has the spirit of the early Eighties within it, is still made for the here and now. Liner notes by author and NWOBHM expert John Tucker ("Neat & Tidy – The Story of Neat Records", "Suzie Smiled" etc.). Cover artwork by Rodney Matthews (Diamond Head, Praying Mantis, Tygers Of Pan Tang, Bitches Sin, Magnum, Nazareth etc.). Mastered by Eroc, known not only for his role as drummer of the Krautrock legends Grobschnitt but also as studio man for his remastering of classics of the Sixties and Seventies.

The album includes the CD only track "Rip Off" and comes in a slipcase including a sticker and a poster.
Tracklisting:
Original by LEGEND 1982

Original by SATAN'S EMPIRE 1981

Original by TAURUS 1980

Original by BASHFUL ALLEY 1980

Original by VIRTUE 1987

Original by TRESPASS 1980

Original by MYTHRA 1981

Original by SPLIT BEAVER 1981

Original by MARQUIS DE SADE 1981

Original by WHITE SPIRIT 1980

Original by ARAGORN 1981

Original by BUDGIE 1980

Original by SMOKIN' ROADIE 1983

Original by FIST 1980
Total playing time 70:56
Soundcloud playlist – Free single download:
Video Album Trailer
Third album of the successful NWOBHM Tribute band.
Band exist of members/ex-members of a.o. Manilla Road, Masters of Disguise, Jameson Raid, Savage Grace, Viron
Excellent live band! Played the Rock Hard, Bang Your Head & Keep It True Festivals + shows with a.o. Saxon, Demon, Blitzkrieg, Praying Mantis, Tygers Of Pan Tang…
Liner Notes by John Tucker, Rodney Matthews and the original bands
Cover Artwork by Rodney Matthews
Mastered by Eroc
20. November 2015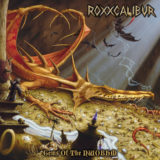 DRAGONY – Shadowplay
Freitag, September 25, 2015
"Shadowplay" shows a band that refuses to bow down to any kind of conventions, that has its musical goals firmly in focus, and that impresses the listener through their imaginative and technically pure work. They are versatile in playing with the popular clichees of the genre and still come across innovative. Overall "Shadowplay" sounds homogeneous and refreshingly heavy – so there is plenty of reason to promote this album on tour. Therefore, the band will be on the billing of Gamma Ray's Anniversary Tour! Feat. Zak Stevens (Savatage, Trans Siberian Orchestra, Circle II Circle) on guestvocals.
Tracklisting:
Total playing time 56:21

Soundcloud playlist – Free single download:
Video Album Trailer
True Survivor – video
Wolves Of The North – lyrics video
Second album of the Austrian Symphonic Power Metal band (debut album: 6 from 7 points in Metal Hammer magazine).
Significant production and guests, including Zak Stevens (Savatage, Trans Siberian Orchestra and Circle II Circle).
Brilliant cover version/interpretation of the David Hasselhoff hit "True Survivor"!
Excellent reputation as live band, having being on the same billing as Primal Fear, Axxis, Blind Guardian, Edenbridge, Paul Di'Anno, Sonata Arctica…
On tour with Gamma Ray in October/November 2015.
25. September 2015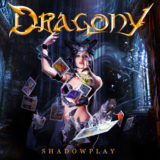 DRAGONY on Soundcloud / free single download
Dienstag, September 22, 2015
Today, we have another special treat for you: you can check out two more songs as previews on our soundcloud player, and you can also download the first single "Wolves Of The North" for free!
Check out this awesome appetizer for the album "Shadowplay", and don't forget to pre-order the album, or get a copy right on release day – this Friday, September 25th!
Soundcloud Previews & Download

CD available here:
Forever Rock Mailorder
ebay
amazon.de

Digital Download:
iTunes
amazon mp3

DRAGONY Album Trailer:

DRAGONY 'True Survivor' Videoclip:

DRAGONY 'Wolves Of The North' Lyric Video:

DRAGONY premiere "Wolves Of The North" lyric video!
Freitag, August 28, 2015
The release of our second album "Shadowplay" is drawing nearer, and we have some important news for you!

First, we'd like to announce the track list for the upcoming album:

1. Wolves Of The North
2. Shadowrunners
3. Kiln Of The First Flame
4. The Maiden's Cliff
5. Warlock
6. Babylon
7. Dr. Agony
8. At Daggers Drawn
9. Unicorn Union
10. The Silent Sun (feat. Zak Stevens)
11. True Survivor (Bonus Track)

Secondly, we'd like to inform you that due to additional time we spent on mixing and mastering of the record to obtain the best results possible, the release date of the album has been pushed back to September 25th, 2015.

And finally, we'd like to premiere the first brand new song from the album, so check out our lyric video to "Wolves Of The North"!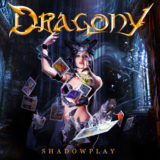 DRAGONY announce "Shadowplay" guest appearance by Zak Stevens!
Freitag, August 14, 2015
Quote: "As on our first album, we are once again thrilled to welcome a very special guest on our upcoming record, and this time it is none other than former SAVATAGE and TRANS SIBERIAN ORCHESTRA vocalist and current singer for CIRCLE II CIRCLE, Zak Stevens!
One of the most prolific and charismatic singers in the history of Metal, he has lent his voice to immortal classics such as "Edge Of Thorns", "Handful Of Rain" and "Dead Winter Dead", has just rocked the WACKEN OPEN AIR as part of a historical two stage performance with SAVATAGE and the TSO, and we are very honored to have Zak on board for our upcoming album "Shadowplay" (out in fall 2015), where he will contribute guest vocals to the song "The Silent Sun"."
Here is a little teaser from the upcoming album: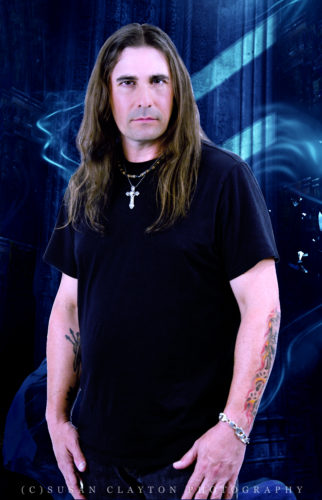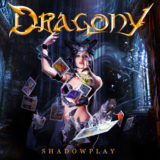 DRAGONY to support GAMMA RAY on their 25 Years in Metal tour
Donnerstag, August 6, 2015
In the bands own words:

"Sometimes, dreams do come true – so it is with great honor that we are able to announce that DRAGONY will be joining the legendary GAMMA RAY (Official) on their upcoming "25 Year Anniversary Party Tour" this fall to promote our new album "Shadowplay", out on 18th September 2015!

Together with GAMMA RAY and Serious Black – Official we will rock the stages of Europe on the following dates:
28.10. Wilhelsmhaven – Pumpwerk (GER)
30.10. Hamburg – Markthalle (GER)
31.10. Berlin – C-Club (GER)
01.11. Bochum – Zeche (GER)
03.11. Munich – Backstage Werk (GER)
04.11. Praha – Meet Factory (CZ)
06.11. Brno – KC Semilasso (CZ)
07.11. Lucenec – Sports Hall (SK)
08.11. Budapest – Club 202 (HUN)
10.11. Graz – Explosiv (A)
Our other upcoming live dates are:
14.11. Graz – Explosiv (A) "Metal For Breathing"
04.12. Vienna – Szene (A) "Shadowplay" Album Presentation
A big shout-out also goes out to our friends in NeonFly, who will join the tour for the second leg in Spain!

We are thrilled to be part of this amazing tour, and look forward to meeting you all on the road! Spread the word, get your tickets, and Unicorns – unite!"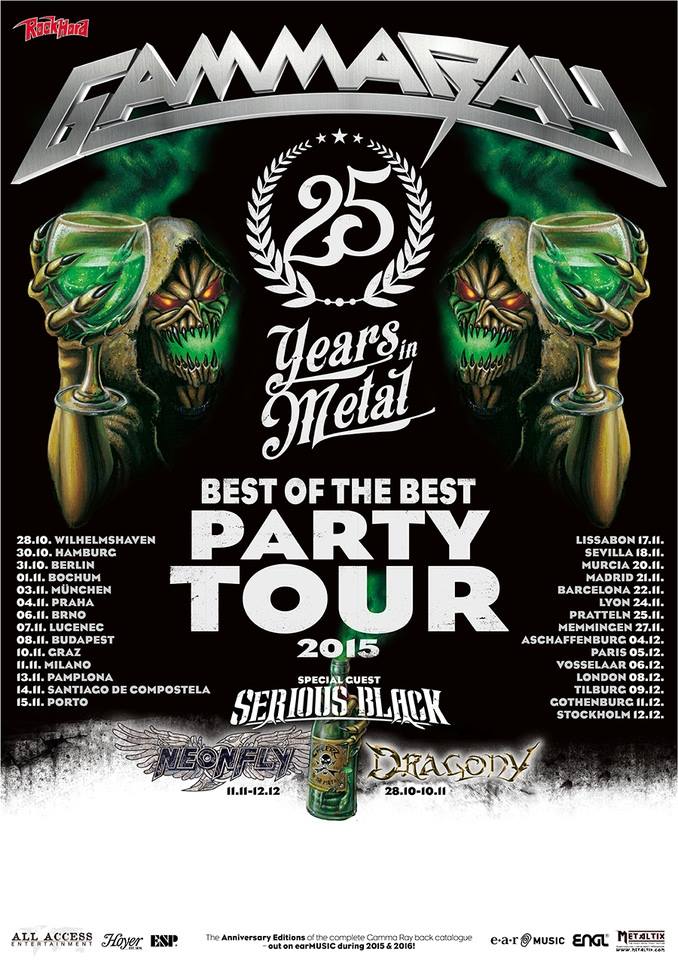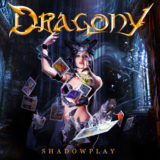 DRAGONY unveil collaboration with Lukas Knoebl of ILLUMINATA
Freitag, Juli 17, 2015
Today, we'd like to continue giving you some details on our upcoming new album "Shadowplay" which will be released on 18th September 2015, and it is with great pleasure that we can announce a collaboration with Lukas Knoebl, guitarist and mastermind of Austrian Symphonic Metallers ILLUMINATA!

Lukas is not only a great guitarist and songwriter, but he is also a highly talented arranger of orchestral music, and when we were looking to take the "symphonic" aspect of our new songs to the next level, we got in contact with Lukas when we heard his amazing work on ILLUMINATA's new album "Where Stories Unfold". We are very happy to have him on board, as he provided some excellent orchestral arrangements for our new songs!

Make sure to check out his band ILLUMINATA: www.illuminata.at


Shadowplay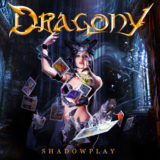 HEAVENS GATE – Best For Sale! album trailer on YouTube and Facebook
Freitag, Juni 26, 2015
Here's the HEAVENS GATE – Best For Sale! album videotrailer and their new Facebook site.

New Facebook site here.

Videotrailer here:


Best For Sale!