BLACK MAJESTY to appear at Woodstock South Africa
Dienstag, September 4, 2012
Australian melodic power metal band Black Majesty will play a one off special performance at Woodstock South Africa 2012 on Friday 28th of September 2012. Other bands set to appear include Fatal Smile (Sweden), Voz (USA), Piston Broke (Australia) and a bunch of South Africa's premier bands all showcasing on the Metal Stage. Checkout www.woodstocksa.com for further info.
Great loss at Limb Music Publishing
Dienstag, August 21, 2012
We here at Limb Music were shocked upon hearing the news that Rudy Holzhauer, our partner in Limb Music Publishing since 1990, was found dead at his home in Hamburg on August 16th at the age of 60. Words can not describe the loss not only of a partner, whose immense knowledge of the music business and his commitment in various organisations has been almost legendary, but a dear friend for many years. Rudy, you will be missed! Limb, Gerd & TC
BLACK MAJESTY – Stargazer
Donnerstag, Juli 5, 2012
Superb Power Metal with lots of melodies, finely spun prog elements and a huge portion of sheer joy and unbroken enthusiasm are the chief characteristics of "Stargazer". Roland Grapow (Masterplan, ex-Helloween) has again given the album a transparent, crystal clear mix, which even manages to enhance the great hymns by the Australians. Artwork by Dirk Illing (Scorpions, etc.)
Tracklisting:
Total playing time 48:30
Australia's premiere Melodic Power Metal act!
Diversified mixture of Judas Priest, Iron Maiden, Queensryche, Hammerfall, and Helloween.
Great reviews of their previous releases.
Album mixed and mastered by Roland Grapow (Masterplan, ex-Helloween).
Live Shows with Edguy, Blind Guardian, Hammerfall, Dragonforce, Saxon, Nevermore, Paul DiAnno, etc. and performances at the Wacken Open-Air Festival.
Cover artwork by Dirk Illing (Scorpions, etc.).
20. July 2012
Sad loss in the SYMPHONITY band camp
Dienstag, Juli 3, 2012
SYMPHONITY's bass player Tomas "Tom" Celechosky has unfortunately lost his battle with cancer on June 27th, 2012. We here at the Limb Music headquarters are deeply saddened and send our condolences to his wife Elena, his family and his band members, who lost not only a great musician but a dear friend for many years.
Visit SYMPHONITY's website at www.symphonity.com to see some of the memories shared by the band.
JACK STARR'S BURNING STARR classic album feat. ex members of VIRGIN STEELE, RIOT, SAVATAGE to be reissued
Donnerstag, Juni 21, 2012
"No Turning Back!" – the classic JACK STARR'S BURNING STARR album from 1986, will be reissued in July via Skol Records. This will be the first official CD re-release of this album since 1998: the album got new artwork (painted by the famous Polish artist Tomasz Oracz), got remastered by Bart Gabriel (CRYSTAL VIPER, SACRED STEEL, LONEWOLF), and will include 2 bonus tracks and thick booklet with all lyrics and many previously unseen photos. CD will be limited to only 1000 copies, and its official premiere has been scheduled for July 25, 2012.

"No Turning Back!" – which is often labeled as "one of the best US Power Metal albums ever" – was recorded by the following line-up:
Jack Starr – guitars (ex-VIRGIN STEELE, ex-PHANTOM LORD)
Mike Tirelli – vocals (MESSIAH'S KISS, ex-HOLY MOTHER)
Keith Collins – bass guitar (ex-SAVATAGE, ex-AVATAR)
Mark Edwards – drums (ex-RIOT, ex-EXORCIST, ex-STEELER)
David DeFeis – keyboards (VIRGIN STEELE, EXORCIST)

In other news: JACK STARR'S BURNING STARR will play an exclusive show at the 2013 edition of the Keep It True Festival in Germany. The group's setlist will include classic songs from the early JACK STARR'S BURNING STARR albums, songs taken from the band's new CD, "Land Of The Dead", and select cuts from Starr's previous bands VIRGIN STEELE, PHANTOM LORD and GUARDIANS OF THE FLAME. The entire show will be filmed for a special DVD release, which will be out in 2014 – the 30th anniversary of JACK STARR'S BURNING STARR. Also in the works are other European live shows for 2013.

"Land Of The Dead" was released on November 11. The CD was produced by Bart Gabriel, and features cover artwork by Ken Kelly (RAINBOW, KISS, MANOWAR). "Land Of The Dead" was recorded by the same line-up that was responsible for 2009's "Defiance" album: Jack Starr on guitar, Ned Meloni on bass, Kenny "Rhino" Earl (ex-MANOWAR) on drums, and Todd Hall on vocals. The CD also features guest appearances by David Shankle and Ross The Boss (both ex-MANOWAR) on lead guitar, and Marta Gabriel (CRYSTAL VIPER) on grand piano and keyboards.
DRAGONY – Legends
Dienstag, Juni 5, 2012
"Legends" can be summed up as high quality, symphonic Power Metal with ass-kicking melody inserts, powerful guitars and lyrics with insight. As far as DRAGONY's overall sound goes, one finds similarities with bands such as Edguy, Kamelot, Sabaton and Stratovarius. Guest musicians: Tom Tieber (Ecliptica), Katie Joanne (Siren's Cry) and Ralf Scheepers (Primal Fear).
Tracklisting:
Total playing time 52:18
Austrian Newcomers, playing at high international standard. All the musicians have a great deal of experience from playing in other bands
Symphonic Power Metal, underlined by great melodies and a tough but finely configured guitar sound, cleverly combined with some prog sections
Excellent production in the WildOneMusic Studios and mastering in the legendary Finnvox Studios in Helsinki by Mika Jussila
Appearance of guest musicians such as Tom Tieber (Ecliptica), Katie Joanne (Siren's Cry) and Ralf Scheepers (Primal Fear)
For fans of Edguy, Kamelot, Sabaton, Stratovarious, Avantasia, Hammerfall
22. June 2012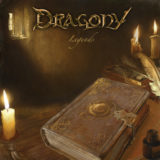 FLASHBACK OF ANGER announce new bass player
Donnerstag, Mai 3, 2012
After the untimely death of Francesco Masini, the Italian band FLASHBACK OF ANGER is ready to announce Andrea "Tower" Torricini as new bass player.

Andrea comes from the bands Vision Divine and Wonderland and has recently played along with Tommy Vitaly and several other international artists such as David Defeis, Todd LaTorre, Zak Stevens, Rhino and others.

The band just started recording the new album with the new line-up at Studio Emme Recording.
GHOST MACHINERY tribute-single with special quests online
Dienstag, April 17, 2012
Finnish heavy metal messenger Ghost Machinery pay tribute to two great Finnish traditional heavy metal bands that have been paving the way to modern day melodic metal. From the northern part of Finland comes Zero Nine with 25 years of hard rocking and 10 albums under their belt. In southern Finland Ironcross was founded in 1976 and the band recorded 3 stunning albums that have not had the publicity they should have had.
The super-catchy Zero Nine song called "Never Stop Runnin'" can be found on the 'White Lines' album. On this one the special quest is an original member from Zero Nine, guitarist Timo Käsmä who plays one hell of a solo on this tribute.
… read all