JACK STARR'S BURNING STARR on tour in Europe
Donnerstag, Juni 5, 2014
JACK STARR'S BURNING STARR feat. Ex-VIRGIN STEELE and ex-MANOWAR members will tour Europe in September.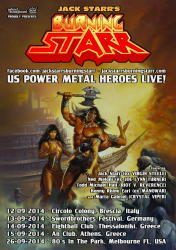 Jack Starr's BURNING STARR confirmed 4 European live shows:
12.09.2014 – Circolo Colony, Brescia, Italy
13.09.2014 – Swordbrothers Festival, Germany
14.09.2014 – Eightball Club, Thessaloniki, Greece
15.09.2014 – An Club, Athens, Greece

On September 26, BURNING STARR will also appear at the 80's In The Park Festival in Melbourne, Florida (USA), along with GREAT WHITE, ZEBRA, FASTER PUSSYCAT and others. The band is currently working on a new studio album titled "Stand Your Ground" with producer Bart Gabriel – who works with acts such as SACRED STEEL, MORTICIAN and SABATON – also produced BURNING STARR's latest album "Land Of The Dead".

Jack Starr's BURNING STARR, is an American Power Metal band formed in 1985 by the ex VIRGIN STEELE member and guitar wizard Jack Starr. After doing 4 classic albums in the '80s, the band returned with a new line-up feat. Jack Starr (guitar), Ned Meloni (bass guitar, ex JOE LYNN TURNER band, ex DEVIL CHILDE and PHANTOM LORD), Kenny Rhino Earl (drums, ex MANOWAR) and Todd Michael Hall (vocals, also in RIOT V), and released the well received comeback album titled "Defiance" in 2009. Two years later the band established their position on the market as one of the best US Power Metal acts with their studio album titled "Land Of The Dead". BURNING STARR's concert line-up is completed by the CRYSTAL VIPER front woman Marta Gabriel.
Land Of The Dead
ANCIENT BARDS special price offer
Montag, Mai 19, 2014
For a limited time we are offering CD as well as T-Shirt and Zipper Jacket of the new ANCIENT BARDS album "A New Dawn Ending" for a special discounted price. The offer will end on 31. May 2014. Check it out at our webshop
www.forever-rock.de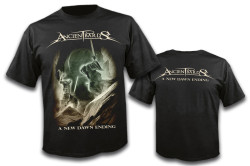 A New Dawn Ending
FIREFORCE – Deathbringer
Donnerstag, Mai 15, 2014
"Deathbringer" is an absolutely pure Heavy Metal album with thirteen ass-kicking songs all comprising of stunning riffs, hammering drums and rounded off with neck-breaking rhythms and with a voluminous, modern production which serves to kick the songs yet further forwards. It's an album, which gets the adrenaline rushing, with a passion manifested in every second of the music. True- and old school metalheads will be enthralled from the first to the last, that is the true verdict. – Produced by R.D. Liapakis (Jack Starr, Suicidal Angels, Steel Prophet, Crystal Tears, etc…)
Tracklisting:
Total playing time 53:26
Powerfully produced Heavy-/Power Metal Album, which will appeal to True- as well as Old- School metal fans
Produced by Mystic Prophecy and Devil's Train singer R.D. Liapakis (Jack Starr, Suicidal Angels, Steel Prophet, Crystal Tears, etc…)
Excellent live reputation from shows at the Prog Power Metal Festival. Live shows with Avantasia, Hell, Tygers of Pan Tang, Crimson Glory, etc…
Musically influenced by bands such as Tygers of Pan Tang, Mystic Prophecy, early Helloween, Running Wild, etc…
On KILLHAMMER Tour in October 2014 with Mystic Prophecy (see tourdates)
20. June 2014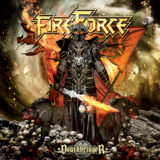 Cover artist Dirk Illing passed away
Dienstag, Mai 13, 2014
R.I.P. Dirk… – We are lost for words! Bad news travel fast they say, but only now did we hear that Dirk Illing has suddenly and unexpectedly passed away last week. His legacy will live on in the many artworks he has done for numerous bands – like for example our Black Majesty, Gun Barrel, Eldritch, Wizard… – and the WOA. Our sincere condolences go out to the family and friends. The Limb Music crew


Ancient Bards #1 at Amazon UK Bestsellers Rank
Donnerstag, Mai 1, 2014
Great news. Ancient Bards' new album "A New Dawn Ending" jumped to #1 at Amazon UK Bestsellers Rank in Power & True Metal! Congratulations!!!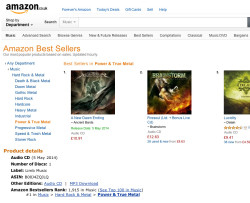 FIREFORCE – "Deathbringer" coming soon…
Donnerstag, April 17, 2014
FIREFORCE, the Belgian Power Metal tank rolls again!
After the release of "March On" it was time to go one step further and the band is now, after inking a worldwide deal with the German label Limb Music, proud to announce their new album "Deathbringer", which will be released on 20. June 2014.
The album consists of 12 "Combat Metal" songs with a powerful production of R.D. Liapakis (Mystic Prophecy, Devil's Train, Suicidal Angels, Crystal Tears).
The crusaders of Combat Metal will convince you that the only way to live is the metal way, or the Deathbringer will come to rip your guts out…
Listen to three prview tracks at news.limb-music.com/fireforce.
ANCIENT BARDS – A New Dawn Ending
Dienstag, April 15, 2014
The ten songs on "A New Dawn Ending", with over seventy minutes of playing time, are perfectly balanced, excellently performed symphonic epic metal with loads of feeling and variety. Their symphonic-epic Metal is cleanly prepared, superbly played and it is apparent that ANCIENT BARDS do their work not only with fun, but also with conviction. 2014 is going to be a really successful year for the Italian symphonic metal band, because with "A New Dawn Ending" they have a true ace up their communal sleeve.
Tracklisting:
Total playing time 71:48

For fans of Nightwish, Rhapsody Of Fire, Epica, Delain snd Edenbridge.
Live shows with Turisas, White Skull, Almah, Domine, Heidevolk, Korpiklaani, Eluveitie, etc.
Epic-melodic, classic-bombastic arrangements packing into excellent sound.
Thematically high quality story together with sophisticated song writing.
Worldwide excellent reviews for their two previous albums.
Vocalist Sara Squadrani was an invited guest on Arjen Anthony Lucassen's last studio opus.
25. April 2014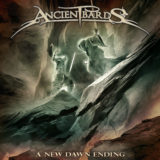 ANCIENT BARDS – New video clip "In My Arms"
Freitag, April 11, 2014
Ancient Bards, Limb Music and Rockshots Music Management are proud to present the videoclip of "In My Arms", the first single extracted from "A New Dawn Ending", the band's new album, to be released on on April 25th in Europe and Japan and on June 10th in North America.
"In My Arms" is the dejected and resigned inner cry of queen Shena, her aching eyes, now witnessing the awful duel between Daltor and Sendor, are the same that saw her son Surod (Dorus) pass away 16 years ago.
The video was directed by Matteo Ermeti