JACK STARR'S BURNING STARR To Release "Sands Of Time" Video Clip
Mittwoch, Juni 18, 2014
On Wednesday, June 25th, 2014, US Power Metal act JACK STARR'S BURNING STARR will release the "Sands Of Time" video clip. The song is taken from band's latest studio album "Land Of The Dead", which was released in 2011 on CD via Limb Music, and 2 years later on LP via Blood And Iron Records. The video clip, which was directed by Oliver Barth and produced by Bart Gabriel, will promote the band's recently announced short European tour (see dates below).
JACK STARR'S BURNING STARR on tour in Europe
Donnerstag, Juni 5, 2014
JACK STARR'S BURNING STARR feat. Ex-VIRGIN STEELE and ex-MANOWAR members will tour Europe in September.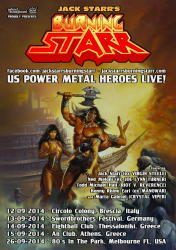 Jack Starr's BURNING STARR confirmed 4 European live shows:
12.09.2014 – Circolo Colony, Brescia, Italy
13.09.2014 – Swordbrothers Festival, Germany
14.09.2014 – Eightball Club, Thessaloniki, Greece
15.09.2014 – An Club, Athens, Greece

On September 26, BURNING STARR will also appear at the 80's In The Park Festival in Melbourne, Florida (USA), along with GREAT WHITE, ZEBRA, FASTER PUSSYCAT and others. The band is currently working on a new studio album titled "Stand Your Ground" with producer Bart Gabriel – who works with acts such as SACRED STEEL, MORTICIAN and SABATON – also produced BURNING STARR's latest album "Land Of The Dead".

Jack Starr's BURNING STARR, is an American Power Metal band formed in 1985 by the ex VIRGIN STEELE member and guitar wizard Jack Starr. After doing 4 classic albums in the '80s, the band returned with a new line-up feat. Jack Starr (guitar), Ned Meloni (bass guitar, ex JOE LYNN TURNER band, ex DEVIL CHILDE and PHANTOM LORD), Kenny Rhino Earl (drums, ex MANOWAR) and Todd Michael Hall (vocals, also in RIOT V), and released the well received comeback album titled "Defiance" in 2009. Two years later the band established their position on the market as one of the best US Power Metal acts with their studio album titled "Land Of The Dead". BURNING STARR's concert line-up is completed by the CRYSTAL VIPER front woman Marta Gabriel.
Land Of The Dead
ANCIENT BARDS special price offer
Montag, Mai 19, 2014
For a limited time we are offering CD as well as T-Shirt and Zipper Jacket of the new ANCIENT BARDS album "A New Dawn Ending" for a special discounted price. The offer will end on 31. May 2014. Check it out at our webshop
www.forever-rock.de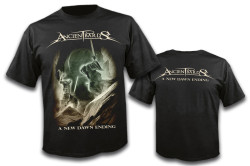 A New Dawn Ending
Cover artist Dirk Illing passed away
Dienstag, Mai 13, 2014
R.I.P. Dirk… – We are lost for words! Bad news travel fast they say, but only now did we hear that Dirk Illing has suddenly and unexpectedly passed away last week. His legacy will live on in the many artworks he has done for numerous bands – like for example our Black Majesty, Gun Barrel, Eldritch, Wizard… – and the WOA. Our sincere condolences go out to the family and friends. The Limb Music crew


Ancient Bards #1 at Amazon UK Bestsellers Rank
Donnerstag, Mai 1, 2014
Great news. Ancient Bards' new album "A New Dawn Ending" jumped to #1 at Amazon UK Bestsellers Rank in Power & True Metal! Congratulations!!!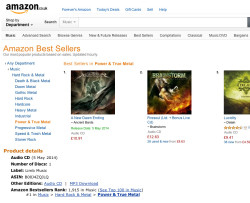 FIREFORCE – "Deathbringer" coming soon…
Donnerstag, April 17, 2014
FIREFORCE, the Belgian Power Metal tank rolls again!
After the release of "March On" it was time to go one step further and the band is now, after inking a worldwide deal with the German label Limb Music, proud to announce their new album "Deathbringer", which will be released on 20. June 2014.
The album consists of 12 "Combat Metal" songs with a powerful production of R.D. Liapakis (Mystic Prophecy, Devil's Train, Suicidal Angels, Crystal Tears).
The crusaders of Combat Metal will convince you that the only way to live is the metal way, or the Deathbringer will come to rip your guts out…
Listen to three prview tracks at news.limb-music.com/fireforce.
ANCIENT BARDS – New video clip "In My Arms"
Freitag, April 11, 2014
Ancient Bards, Limb Music and Rockshots Music Management are proud to present the videoclip of "In My Arms", the first single extracted from "A New Dawn Ending", the band's new album, to be released on on April 25th in Europe and Japan and on June 10th in North America.
"In My Arms" is the dejected and resigned inner cry of queen Shena, her aching eyes, now witnessing the awful duel between Daltor and Sendor, are the same that saw her son Surod (Dorus) pass away 16 years ago.
The video was directed by Matteo Ermeti

ANCIENT BARDS – "A New Dawn Ending" coming soon…
Dienstag, April 1, 2014
ANCIENT BARDS along with Limb Music and Rockshots Music Management, are proud to present A New Dawn Ending.

This is the title of the new album of Ancient Bards, containing the third and last chapter of the first part of the Black Crystal Sword Saga, which began with The Alliance of the Kings in 2010 and continued with Soulless Child in 2011.

A New Dawn Ending will be released via Limb Music on April 25th, 2014.
Cover art designed by the master Felipe Machado Franco (Blind Guardian, Rhapsody)

Listen to 3 samples from the new album and watch the album trailer here: limb-music.com/ancientbardsnews.

The album contains 10 songs, including 2 suites: one of over 12 minutes, and one of nearly 17 for a total of over 70 minutes.

Here's the tracklist of A New Dawn Ending:

01 – Before the Storm (1:39)
02 – A Greater Purpose (7:55)
03 – Flaming Heart (6:52)
04 – Across This Life (4:31)
05 – In My Arms (5:25)
06 – The Last Resort (6:06)
07 – Showdown (12:48)
08 – In the End (5:11)
09 – Spiriti Liberi (4:49)
10 – A New Dawn Ending (16:37)

Official Pre-Order available:
Ancient Bards Official Shop Italy:
http://abshop.bigcartel.com/product/a-new-dawn-ending-pre-order

Forever Rock Mailorder Germany:
www.forever-rock.de

PROMO PAGE:
www.rockshots.eu/release/a-new-dawn-ending.

BOOKING INQUIRIES: info@rockshots.eu