FIREWÖLFE digital re-release!
Sonntag, März 13, 2022
The highly regarded FireWölfe self-titled debut album has been re-released digitally on Limb Music!
The album was originally released in 2011 and will be re-released in physical format on CD later this summer via Limb Music!


SYMPHONITY release new single!
Freitag, März 11, 2022
We are proud to announce today's release of the first digital single from SYMPHONITY's upcoming album "Marco Polo: The Metal Soundtrack". The song is called "Marco Polo Part 3: The Plague" and it is now available on all digital platforms worldwide.

The song is a powerful speedy hymn with strong melody line in chorus. It begins with the mighty sound of Armenian Duduk (ancient Armenian wood instrument) and it is one of the fastest songs on the album.

Except of the swift guitar solo, you can hear the solo part on another special instrument – Turkish violin. The whole song is very heavy, probably much heavier than most of other SYMPHONITY's songs. It relates to the plague which the whole Marco Polo expedition experienced in the town of Hormuz.


SYMPHONITY reveals artwork for "Marco Polo: The Metal Soundtrack"
Donnerstag, März 3, 2022
This is the front cover artwork from the upcoming SYMPHONITY conceptual album "Marco Polo: The Metal Soundtrack" (out on May 20th), created by Dušan Marković (Dragony, FireWölfe, Jag Panzer) and showing a battle-ready and fierce horde of mongolian warriors on horseback.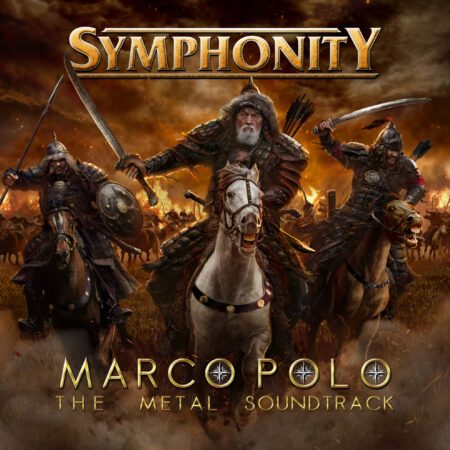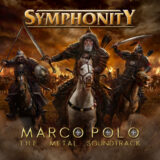 SYMPHONITY – new album annoucement
Donnerstag, Februar 24, 2022
We are proud to announce the third studio album by Symphonic Power Metallics SYMPHONITY called "Marco Polo: The Metal Soundtrack" which will be released on May 20th. The album will be released also in Japan (May 18th) and USA (June 24th).

The new release is a conceptual album which tells the life story of Venetian merchant Marco Polo whose travels to the Far East became legendary. From the musical side, it's SYMPHONITY's hardest, fastest and the most symphonic album so far. Moreover, it is spiced with many ethnic instruments from the Middle and Far East which gives a specific sound to each of the songs. On the other hand there are also some ballads on the album. So as a whole, it sounds balanced and colorful.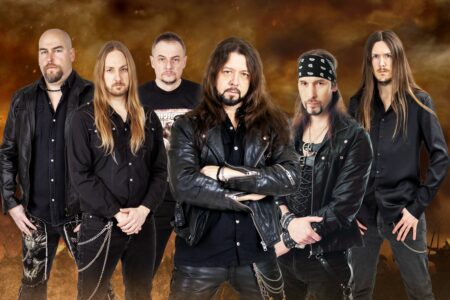 MEMORIES OF OLD – The Land Of Xia (Performance Video)
Donnerstag, Februar 17, 2022
On this day 3 years ago, MEMORIES OF OLD released their very first single to the world, which went on to become one of their most popular and well known tracks "The Land of Xia", the worlds first taste of MEMORIES OF OLD and the groundwork for what was and still is to come!
You may remember a while back, "The Land of Xia" was also voted for the track you all most wanted to see them make a performance video of, and with that in mind they figured today would be the perfect day to release this video for you to all enjoy. 😉
So here it is, please like, share, and most importantly, rock out with us, as we celebrate this special day in style! 😎🤘
Audio samples & Videos: HERE
CD & Streaming/Download: HERE
SANDSTONE's new video
Freitag, Dezember 24, 2021
SANDSTONE's new videoclip out now!

Presented here is the track 5 from SANDSTONE's new album "Epsilon Sky".
"Made Up" is a classical inspired ballad that crescendos to full heavy metal power, featuring our bass player Tom Alford on cello and Stevie on classical guitar. The song is about coping with loss and finding the strength to move on.

Audio samples & Videos: HERE

CD & Streaming/Download: HERE


New FireWölfe album & video released!
Freitag, November 19, 2021
The new FireWölfe album "Conquer All Fear" and the videoclip for "Candle In The Dark" are released today!

The band is excited to share it's heaviest album yet with Metalheads everywhere!

The album features new vocalist Freddy Krumins (ex-James Byrd's Atlantis Rising) on lead vocals as well as newcomers Marco Bicca (Pamela Moore, The Element, A Dying Planet) and guitarist Michael David (TKO), FireWölfe veteran Bobby Ferkovich (also Pamela Moore, Presto Ballet, Metal Church, Heir Apparent) on bass and band founder Nick Layton (ex-Q5) on guitars.

"Conquer All Fear" delivers power and melody throughout the album, from mid tempo powerhouses like "Vicious As The Viper" and "Magic (In Your Mind)" to uptempo skull crushers like "Pedal To Metal" and "Swallow My Pride", the songs keep coming at you in waves of metal glory. The album features the "Evil Eye Trilogy", the centerpiece of the album that is a collection of 3 songs that will take you on a metal journey that will have you head banging with delight.

"Conquer All Fear" also slows down occasionally as with the title track and the new video for the song "Candle In The Dark". This is a melodic, powerful tune that finds the band exploring heavy atmosphere and moody chord progressions that feature a killer vocal performance by Freddy Krumins and a great sing along chorus.

"Conquer All Fear" is produced & mastered by Bart Gabriel (Crystal Viper, Jack Starr, Jag Panzer, Hexx). Mixed by Cederick Forsberg (Crystal Viper, Marta Gabriel, Rocka Rollas, Blazon Stone). Cover artwork by Dusan Markovic (Dragony, Symphonity, Jag Panzer, Thor, The Sound Of Thunder, Death Dealer).

Check out FireWölfe's new album "Conquer All Fear" today and get ready for a spellbinding Heavy Metal experience full of excellent performances from the band and a killer collection of songs that are sure to become fan favorites! Rock on!

Audio samples & Videos: HERE

CD & Streaming/Download: HERE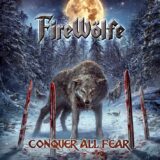 WONDERS album & video released today!
Freitag, November 12, 2021
Message from WONDERS:
"Today is the day of days for us, our debut album "The Fragments Of Wonder" sees the light after a long and intense journey. We believe we are contributing to the world of Power Metal an album worth of the elements that made this genre so big: power, speed, emotion, technique, feelings and, most importantly, big choruses for all of you to sing out loud!
We present you the 3rd video of our debut, the title track of the album and we hope you embark on the same magnificent and colourful journey with us!"

Audio samples & Videos: HERE

CD & Streaming/Download: HERE