RHAPSODY – Symphony Of Enchanted Lands
Dienstag, Oktober 20, 1998
Even a thousand words would not be enough to amply describe the phenomina of the Italian speed metal band Rhapsody. The spectrum of their musicality is too wide, displaying so much virtuosity, based on sheer technical and compositional talent. That even an apparently perfect band can go one better has been proved by Rhapsody with their current album SYMPHONY OF ENCHANTED LANDS. This album contains timely Symphonic Metal par excellence, brillantly composed, with diversified arrangements and opulently instrumented. Clearly, experts were at work here – experts who, with an incomparable mixture of intuition, unerring taste and technical ability have produced an album for eternity. Rhapsody melt the past, the present and the future to a homogenous whole and make a theoretical "use by" date unnecessary.
Tracklisting:
20. Oct 1998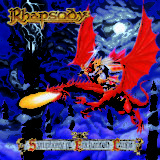 RHAPSODY – Legendary Tales
Montag, Oktober 27, 1997
Recorded at the Gate-Studios in Wolfsburg, Germany, with producer Sascha Paeth (Heavens Gate, Angra), the disc served to define a new standard in classically-influenced metal, fusing compelling musical intricacy with an alluring theme of ancient legend and fantasy. The richly composed collection of 10 songs features the emotional depth of real flutes, harpsichord, cello and choir – no samples, no synthesizers – in addition to guitar, bass, drums and vocals. The result is a sweeping epic that carries the listener away to a faraway place and time.
Tracklisting:
27. Oct 1997