SKYLINER – Condition Black
Tuesday, October 11, 2016
Jacksonville in Florida's north-east shouldn't be condemned just because Limp Bizkit hails from there. Jacksonville has more to offer. SKYLINER, for example, who appeared on the metal scene two years ago with their excellent album, "Outsiders" and who immediately made their mark on the genre with their musical brew of Power and Prog Metal elements. The Americans sounded distinctly European, something that did not only make friends in their hometown. But they bit the bullet and carried on, working through local clubs and began writing songs for their follow-up album. "Condition Black" built up on "Outsiders" dipping a toe into new musical spheres and showed a band trying to find its new self without turning its back on its influences. Not an easy task but in the end the lads are to be congratulated on the success of the experiment.

In a musical sense they became more experimental, the songs are different to those on the predecessor, the sound reaches further into the past. "Condition Black" is certainly an album which is not meant to be just music in the background.

The progged influences cannot be overlooked and they have moved somewhat away from the traditional Power Metal elements which stamped the predecessor album. The vocals became rawer and one could almost say that "Condition Black" shows a band built on an entirely new musical base, turning down the sound to its most important elements. What may sound at first as unstructured and inconsistent soon shows its very own appeal.

"As Above, So Below (Those Who From Heaven To Earth Came)" is a fast, straight number definitely in the style of Rage. In contrast to that is "The Morbid Architect", a track whose growls and blast beats is almost frightening, but which is surprisingly good thanks to the combination with thrashy-fast metal passages. The progged, fast "Too Many Voices" is one of the highlights of the album, as is "Your Hand In Mine". The listener should not prejudge the album before listening it through, letting him- or herself be carried along, putting memories and opinions of the band to one side and giving the new a chance. SKYLINER certainly don't make it easy with this new album, but isn't it the unusual sound and style of a band which give new perspectives? "Condition Black" is exactly one of those rare albums.
Tracklisting:
Total playing time 60:52
Second album of the US trio which has now torn down musical barriers and set new accents on its sound.
The long-awaited follow-up to their superb debut album.
For musically open-minded fans who appreciate and prefer albums with great variety.
21. October 2016
SYMPHONITY – King Of Persia
Tuesday, August 30, 2016
The Czech Republic has until now never been a shining light on the international Heavy Metal scene. Now and again a band would appear but then disappear again shortly afterwards. That, however, does not apply to SYMPHONITY, a union of talented Czech, Slovakian and German musicians who have just recorded their third album, "King Of Persia". The band can be classified in the classical-symphonic genre, plays at a very high international standard and easily keeps pace with established bands such as Stratovarius, Rhapsody, Dionysus, Thunderstone and Sonata Arctica. Up-tempo hymns with high classical melodies, complex guitar parts played with virtuosity, unmistakeable vocals and memorable melodies are the characteristics of this, the band's third album. Their previous work, "Voice from the Silence" had already impressed both the press and fans and came highly recommended listening. 2016 is sure to be a successful year for SYMPHONITY.

"King Of Persia" contains all the ingredients that fans of Sonata Arctica, Stratovarius, Rhapsody and Thunderstone expect from a high quality album: a build-up of broad choruses, voluminous melodies, galloping guitar attacks as well as neo-progged 6-string inserts. Add to that the vocals, which will send shivers down the spine of voice freaks. "In The Name Of God" with its classical guitar tracks will get the headbangers active and the melodies are irresistable and simply force you to sing along with them. The seven minute long "Children Of The Light" changes pace, mood and progressive claims – it's a fast paced firework display of inspiration and complexity. The title track, around nine minutes long, is the core of the album and shows off the band's clear talents for writing exciting songs and to put them to music in an equally impressive manner. Whilst "Siren Call" curls through your ears in a ballad-like way, "Live To Tell The Tale" is almost a rock number. "The Choice" will certainly thrill Avantasia fans. You can see, or rather you can hear that SYMPHONITY have managed to expand their musical field without having reduced the level of their basic influences. "King Of Persia" is a "Must Have" album for fans of Melodic Heavy Metal in 2016.
Tracklisting:
Total playing time 53:28
For Fans of SONATA ARCTICA, STRATOVARIUS, DIONYSUS, RHAPSODY, THUNDERSTONE.
With Olaf Hayer (AINA, LUCA TURILLI, CHRYZTYNE, DIONYSUS, TREASURE SEEKER etc.) the band has one of the most expressive German Heavy Metal vocalists.
Introducing the voice of Herbie Langhans – the new star of the latest AVANTASIA album and world tour.
Cover artwork by Andreas Marschall (BLIND GUARDIAN, KREATOR, RUNNING WILD, HAMMERFALL, etc.).
The band has already opened for NIGHTWISH.
Album mixed by Sascha Paeth and mastered by Miro, Wolfsburg, Germany.
30. September 2016
ASTRALION – Outlaw
Tuesday, April 19, 2016
In the last ten years Finland has risen to become one of the world's most potent suppliers of Heavy Metal. The number of bands without whom the scene would simply be unimaginable is enormous, and anyone who thinks that the country comprises solely of reindeer, snow and the taiga is definitely missing something. Despite Finland's huge size, the music scene is closely linked and musicians from a number of different styles continue to get together to form new, interesting bands. ASTRALION is no exception. The band, christened in a pub in southern Finland five years ago, have now advanced so much that they are now releasing their second album, "Outlaw". ASTRALION plays hard-hitting, melodic Power Metal, marked by needle-sharp guitar parts, huge keyboard melodies, lovely clear vocals and choruses which you can just imagine being sung by masses of fans. The band's motto says it all: Forget the dragon, forget the sword – here's true power from the chord!

Bands such as Sonata Arctica, Thunderstone, Hammerfall, Stratovarius, early Blind Guardian and Yngwie Malmsteen are the most noticeable influences of ASTRALION's sound. That means broad choruses, voluminous melodies, racing guitar attacks as well as subtle neo-progged 6-string interludes. Whilst the album's opener "Deathphone" is a steeply driven, whiplike hymne, "Black Adder" and "The Outlaw" are pure, melodic Speed Metal hammers to set the adrenalin flowing. "The Great Place Of The Sea" is a 10 minute long opus which reminds the listener somewhat of Alestorm, whilst "Sacrificed & Immortalized" stamps forwards with thrilling Malmsteenic solo parts. With "Wastelands Of Ice" the band recorded a semi-ballad in the style of the album's predecessor's track, "At The Edge Of The World" and as a song with a great melody will certainly be recognised as such.

"Outlaw" has all the ingredients to make the discerning heavy metal fan smile with satisfaction.
Tracklisting:
Total playing time 58:41
Video Album Trailer
Finnish band oriented in the style of groups such as Sonata Arctica, Thunderstone, Hammerfall, Stratovarius and early Blind Guardian.
Each musician can look back on many years of experience in bands such as Olympos Mons, The Addication and HumanGod.
Convincing, excellently produced melodic Power Metal with massive hymnal effects.
Established band in Finland with huge live experience.
13. May 2016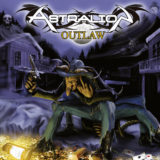 ROXXCALIBUR – Gems Of The NWOBHM
Tuesday, November 10, 2015
The "gold diggers" are back. Their third album, "Gems Of The NWOBHM" is definitely no obscurity for people in the know. Even though the majority of worldwide metal fans may not be familiar with all of the selected songs in their original form, it remains an incredibly good metal CD, which, although it has the spirit of the early Eighties within it, is still made for the here and now. Liner notes by author and NWOBHM expert John Tucker ("Neat & Tidy – The Story of Neat Records", "Suzie Smiled" etc.). Cover artwork by Rodney Matthews (Diamond Head, Praying Mantis, Tygers Of Pan Tang, Bitches Sin, Magnum, Nazareth etc.). Mastered by Eroc, known not only for his role as drummer of the Krautrock legends Grobschnitt but also as studio man for his remastering of classics of the Sixties and Seventies.

The album includes the CD only track "Rip Off" and comes in a slipcase including a sticker and a poster.
Tracklisting:
Original by LEGEND 1982

Original by SATAN'S EMPIRE 1981

Original by TAURUS 1980

Original by BASHFUL ALLEY 1980

Original by VIRTUE 1987

Original by TRESPASS 1980

Original by MYTHRA 1981

Original by SPLIT BEAVER 1981

Original by MARQUIS DE SADE 1981

Original by WHITE SPIRIT 1980

Original by ARAGORN 1981

Original by BUDGIE 1980

Original by SMOKIN' ROADIE 1983

Original by FIST 1980
Total playing time 70:56
Soundcloud playlist – Free single download:
Video Album Trailer
Third album of the successful NWOBHM Tribute band.
Band exist of members/ex-members of a.o. Manilla Road, Masters of Disguise, Jameson Raid, Savage Grace, Viron
Excellent live band! Played the Rock Hard, Bang Your Head & Keep It True Festivals + shows with a.o. Saxon, Demon, Blitzkrieg, Praying Mantis, Tygers Of Pan Tang…
Liner Notes by John Tucker, Rodney Matthews and the original bands
Cover Artwork by Rodney Matthews
Mastered by Eroc
20. November 2015
DRAGONY – Shadowplay
Friday, September 25, 2015
"Shadowplay" shows a band that refuses to bow down to any kind of conventions, that has its musical goals firmly in focus, and that impresses the listener through their imaginative and technically pure work. They are versatile in playing with the popular clichees of the genre and still come across innovative. Overall "Shadowplay" sounds homogeneous and refreshingly heavy – so there is plenty of reason to promote this album on tour. Therefore, the band will be on the billing of Gamma Ray's Anniversary Tour! Feat. Zak Stevens (Savatage, Trans Siberian Orchestra, Circle II Circle) on guestvocals.
Tracklisting:
Total playing time 56:21

Soundcloud playlist – Free single download:
Video Album Trailer
True Survivor – video
Wolves Of The North – lyrics video
Second album of the Austrian Symphonic Power Metal band (debut album: 6 from 7 points in Metal Hammer magazine).
Significant production and guests, including Zak Stevens (Savatage, Trans Siberian Orchestra and Circle II Circle).
Brilliant cover version/interpretation of the David Hasselhoff hit "True Survivor"!
Excellent reputation as live band, having being on the same billing as Primal Fear, Axxis, Blind Guardian, Edenbridge, Paul Di'Anno, Sonata Arctica…
On tour with Gamma Ray in October/November 2015.
25. September 2015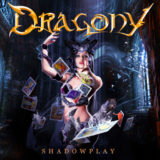 HEAVENS GATE – Best For Sale!
Tuesday, May 19, 2015
From their first days in 1987 until their break in 1999, HEAVENS GATE were among the top representatives of German Heavy Metal. They had a large fan community, especially in Japan, and their albums are in high demand until today… Which justifies some special release, of course – 'Best For Sale!' is a perfect choice for the newbie and the stalwart longtime fan. Let's take a trip down memory lane and recap the development of the band.

16 years after one of the best German Heavy Metal bands was heard of last, 'Best For Sale!' offers a great compendium of the quintet's creative years. No doubt they have left their mark, and their albums are still in high demand. HEAVENS GATE were an integral part of the German Heavy Metal scene, and 'Best For Sale!' epitomises their unique sound: be it fast smashers or classic ballads – the boys deliver them with their impressive and distinctive style. Enjoy 'Best For Sale!' either as an introduction to the HEAVENS GATE catalogue or as a great essential legacy.

The first pressing will come in a slipcase containing a sticker plus 36x36cm poster.
Tracklisting:
Total playing time 79:13
In the 1990's, HEAVENS GATE were among the most successful and most exciting German Metal bands.
Immense success in Japan.
Back catalogue is in high demand.
This 17 song "Best Of" compilation features superb remastered material from all of their full-length albums.
Three bonus tracks for Digital Download and Streaming.
Guitarist Sascha Paeth has become a renowned producer.
10. July 2015
WIZARD – Bound By Metal (Remastered Reissue)
Tuesday, April 7, 2015
The image represented so clearly by the cover artwork of the Wizard output, "Bound By Metal" is transformed into ambitious music in the tracks of the album. The power of the album bursts through the seams, as the title of this tremendous album promises. Every one of the twelve original songs shine with great instrument techniques and memorable vocal lines.

Remastered by Markus Teske (Vanden Plas, Mob Rules, Symphony X, Neal Morse, Saga and Ian Parry's Consortium Project), including bonus tracks.
Tracklisting:
Total playing time 64:55
Wizard have existed since 1989 and are one of Germany's most popular Speed/Power Metal bands.
Numerous successful festival performances e.g. at Wacken, Bang Your Head, Keep it True Festival
Sven D'Anna is one of Germany's most charismatic vocalists
Re-release of the rare classic album incl. bonus tracks
Remastered by Markus Teske (Vanden Plas, Mob Rules, Symphony X, Neal Morse, Saga and Ian Parry's Consortium Project)
24. April 2015
WIZARD – Remastered Reissues
Tuesday, March 31, 2015
The opinion of the international press that Wizard is Germany's answer to Manowar is not entirely incorrect. The band with singer Sven D'Anna take their fast, furious true metal sound from similar sources as Joey DeMaio's American band. Despite that, Wizard's songs are not lacking in individuality.

"Nobody told us that Metal was dead – believe me", Snoppi says with a deadpan face, "we didn't notice that in the rehearsal room…". This totally naive and very honest statement, taken from an early interview, is WIZARD in a nutshell. WIZARD have remained true to themselves – and they are the only real choice for anyone searching for the true Metal spirit.

Reissues of three classic albums, remastered by Markus Teske (Vanden Plas, Mob Rules, Symphony X, Neal Morse, Saga and Ian Parry's Consortium Project)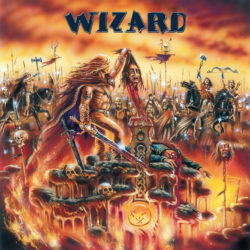 Tracklisting – Head Of The Deceiver:

Total playing time 59:34
Tracklisting – Odin:

Total playing time 66:10

Bonus Video: Betrayer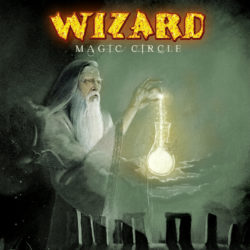 Tracklisting – Magic Circle:

Total playing time 68:52

Bonus Video: Warriors Of The Night
WIZARD are one of Germany's most popular Power Metal bands.
Sven D'Anna is one of Germany's most charismatic vocalists.
Head Of The Deceiver produced by Uwe Lulis (Grave Digger, Rebellion)
Odin produced by Piet Sielck (Blind Guardian, Iron Savior, Savage Circus).
Numerous successful festival performances e.g. at Wacken, Bang Your Head, Keep it True Festival.
Remastered by Markus Teske (Vanden Plas, Mob Rules, Symphony X, Neal Morse, Saga and Ian Parry's Consortium Project).
27. March 2015