SYMPHONITY release second single & videoclip
Freitag, Mai 29, 2020
Marco Polo – Dreaming Of Home is SYMPHONITYs second single and videoclip with the refined new line-up, featuring Konstantin Naumenko (Sunrise) and Mayo Petranin (ex-Signum Regis) on vocals.

Lyrics for this song were pinned down by no other than our very own Billy Jeffs of MEMORIES OF OLD.

The song was mixed by Mikko Karmila & mastered by Mika Jussila at Finnvox Studios, Finland (NIGHTWISH, STRATOVARIUS).

The audio version is available on all major digital streaming & download sites (for examples click HERE).



SYMPHONITY are:
Konstantin Naumenko – Lead Vocals
Mayo Petranin – Lead Vocals
Libor Křivák – Guitars, Keyboards
Tomáš Sklenář – Bass
Radim Večeřa – Drums
Guests:
Sergio Meis – Piano

Follow SYMPHONITY:
www.symphonity.com
www.facebook.com/symphonity
www.instagram.com/symphonity_official
Dreaming Of Home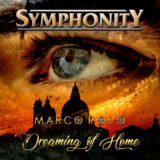 New SYMPHONITY single & video: Marco Polo (part 2) – Crimson Silk
Freitag, November 29, 2019
SYMPHONITY are back with their first single and videoclip in the new line-up with both, Antonio Abarte (PERSEUS) and Mayo Petranin (ex-SIGNUM REGIS), on lead vocals.

"Crimson Silk" features the guest musicians Marek "Ashok" Šmerda (CRADLE OF FILTH), Herbie Langhans (AVANTASIA) and Ladislav Šiška.

The production as well as the arrangements were handled by Libor Křivák. The song was mixed by Mikko Karmila & mastered by Mika Jussila at the Finnvox Studios, Finland (NIGHTWISH, STRATOVARIUS).

Finally, the amazing cover artwork was done by Dušan Marković.


The audio version is available on most major digital streaming & download sites, e.g.:
Bandcamp
Apple Music/iTunes
Amazon.de
Amazon.co.uk
Amazon.fr
Amazon.it
Amazon.es
Amazon.com
Spotify
Deezer
SYMPHONITY are: 

Antonio Abate – Lead Vocals 

Mayo Petranin – Lead Vocals 

Libor Křivák – Guitars, Keyboards 

Tomáš Sklenář – Bass 

Radim Večeřa – Drums
Follow SYMPHONITY:
Homepage
Facebook
Instagram
Crimson Silk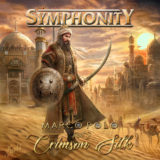 MINOTAURUS – Victims Of The Underworld
Dienstag, November 12, 2019
"Victims Of The Underworld", again recorded in collaboration with producer Rolf Munkes, is being released in the band's 25th anniversary year. With more metal, but with lasting lyrical content, the album is a work of maturity and depth. From "Thor I'm Asking You" which, from the first note, carries the listener along with its hard guitars and profound melody, to the doom-inspired "Raven's Fate" the songs seem to have been cast from a single multifaceted mold. Every note displays the conviction and energy that the band applied while recording their sixth album. MINOTAURUS have delivered a monumental work even by their own standards, and one which will surely generate new fans of this genre.
Tracklisting:
Total playing time 45:50
Mature, dynamic, tougher: that is the MINOTAURUS 2019 sound!
Produced by Rolf Munkes (Empire, Crematory, ex-Majesty, Tour guitarist for Tony Martin etc…) in Empire Studios.
Multifaceted, intensive Folk Metal.
High-quality back catalog with excellent reviews.
Victims Of The
Underworld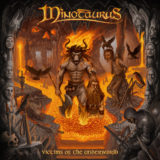 ANCIENT BARDS – Origine (The Black Crystal Sword Saga Part 2)
Donnerstag, Januar 24, 2019
The Italian Bombastic/Symphonic Power Metal band around the strongly-voiced front lady Sara Squadrani always went its own way, but they really go to town on their fourth album "Origine (The Black Crystal Sword Saga Part 2)". Their symphonic/epic Metal is cleanly thought through, exceedingly well played and the listener notices ANCIENT BARDS' enjoyment and conviction of what they do.

With "Origine", ANCIENT BARDS once again presents an album which not only shows the rademarks of the band, but one which has all the feelings of a cinema soundtrack. Once again they have taken a step forward with their epic influences, strengthened the orchestral parts and combined it with racing guitars to a distinctive mixture. Sara's voice tops off the tracks with all her vocal diversity. The quality of vocalist Sara's ability had, by now, reached Holland and Arjen Anthony Lucassen invited her, alongside a star-studded guestlist, to participate on his album "The Theory Of Everything".

Choose your favorite streaming service or find a place to purchase the album at: ANCIENT BARDS "Origine (The Black Crystal Sword Saga Part 2)"

Tracklisting:
Total playing time 62:35
For fans of Nightwish, Within Temptation, Rhapsody Of Fire, Epica, Delain and Edenbridge.
Live experience with Turisas, White Skull, Almah, Domine, Heidevolk, Korpiklaani, Eluveitie, etc…; Festival performances in Wacken, Made of Metal, Female Voice Metal Festival.
Epic-melodic, classical-bombastic arrangements wrapped in an excellent sound.
Thematically high quality story line together with sophisticated songwriting.
Worldwide superb reviews given to their first three albums.
Vocalist Sara Squadrani was an invited guest on Arjen Anthony Lucassen last studio opus.
CD only bonus track.
25. January 2019
DRAGONY – Masters Of The Multiverse
Donnerstag, September 27, 2018
Vienna 2007. The Dragonslayer Project caused an uproar on the Austrian scene. What began simply as a project, quickly became an established band, playing numerous successful shows. Even established bands such as Axxis, Sonata Arctica, Serenity, Powerwolf and Paul Di'Anno relied on the band as an excellent support act. After changing the band name to DRAGONY in 2011, the band signed with Limb Music, and released the debut album "Legends" in 2012.

Six years later DRAGONY is now presenting their third studion album entitled "Masters Of The Multiverse". Ten symphonic metal hammers, which cover the entire breadth of the genre from stamping riff monsters to high speed bombers to epic ballads. Not only is Sabaton guitarist Tommy Johansson featured on the album, but one is also treated to the vocals of Van Canto singer Ross Thompson and the German vocalist Nora Bendzko.
Tracklisting:
Total playing time 58:15
Fourth release of the Austrian Symphonic Power Metaller.
High standard of production.
Album mastered in Finnvox Studio.
Brilliant cover version/interpretation of the Stan Bush song "The Touch" (CD only bonus track).
12. October 2018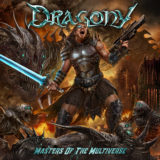 BLACK MAJESTY –
The 10 Years Royal Collection
(Remastered)
Freitag, September 14, 2018
Australia's high decibel Metal scene is subject to certain rules. Because of the immense distance many of the hundreds of promising newcomers on the Australian scene never make it across the pond. The few combos who do manage to make the trip to Europe are a huge enhancement for the European scene. BLACK MAJESTY is one such band! Superb Power Metal with lots of melodies, finely spun prog elements and a huge portion of sheer joy and unbroken enthusiasm are the chief characteristics of Black Majesty. The Best Of contains songs of the first five albums, as well as rare Japan bonus tracks, acoustic versions and previously unreleased songs and demos with the whopping number of 31 remastered tracks on two CD's.

Prelisten to the album and find direct links for streaming/downloading and buying options HERE!

Tracklisting:
Disc 1:
01. Fall Of The Reich / 5:16
02. Legacy / 4:17
03. Sands Of Time / 5:40
04. Dragon Reborn / 6:03
05. Silent Company / 4:26
06. Six Ribbons (Jon English Tribute) / 3:20
07. Firestorm / 5:26
08. Forever Damned / 5:10
09. Into The Black / 5:08
10. Tomorrowland / 4:48
11. Far Beyond / 5:24
12. Break These Chains / 4:49
13. Wish You Well / 4:21
14. Falling / 4:40
15. Holy Killers / 5:10
16. Edge Of The World / 4:19

Disc 2:
01. Chasing Time / 5:26
02. Guardian (Acoustic Version) / 6:59
03. Kingdoms / 4:15
04. Memories / 5:37
05. Silent Company (Acoustic Version) / 5:13
06. Two Hearts / 4:35
07. Hunt For You / 5:23
08. Shine / 4:16
09. Lycan / 4:50
10. Everlasting (Previously Unreleased) / 4:55
11. Forever Damned (Live) / 5:11
12. Dying Innocence (Demo) / 4:49
13. Take Me (Demo) / 4:21
14. Sands Of Time (Demo) / 4:40
15. Journeys End (Demo) / 5:10

Total playing time 2:35:13


Best Of of the first 10 years of Australia's premiere Melodic Power Metal act
Diversified mixture of Judas Priest, Iron Maiden, Queensryche, Hammerfall, and Helloween
Great reviews of their previous releases
Live Shows with Edguy, Blind Guardian, Hammerfall, Dragonforce, Saxon, Nevermore, Paul DiAnno, etc. and performances at the Wacken Open Air Festival
14. September 2018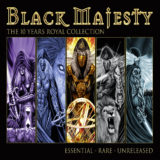 SANDSTONE – Tides Of Opinion
Remixed Digital Re-Release
Donnerstag, April 26, 2018
Since forming in 2003, SANDSTONE have been a favourite on the Northern Ireland pub and festival circuit, building a solid fan base. Known for their high energy and tight performances, the band have already toured the mainland on the back of this reputation. From Power Ballads to Prog Rock Epics, the band comprise of accomplished musicians with a maturity that flows with ease.
Following the success of their debut EP "Life Giving Sun" the band hit the road, winning the top prize at the Hammersmith battle of the bands along the way, and writing constantly, putting the final touches to the material that would make up their first full album 'Tides of Opinion', a slice of classic style hard-rock executed with confidence and power.
Enjoy this fully remixed and remastered piece of history, which is now available as digital download and includes three previously unreleased tracks.
Tracklisting:
Total playing time 1:14:59
Video Album Trailer
Re-Release of the thought after debut album.
Remixed and remastered.
Including three previously unreleased tracks.
27. April 2018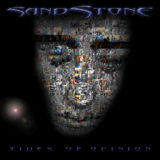 STEVIE MCLAUGHLIN – Toy Empires
Dienstag, April 3, 2018
The Irish guitarist Stevie McLaughlin, better known for his riff attacks with the Irish metal band Sandstone and as touring guitarrist for the former Judas Priest/ex-Iced Earth singer Tim Ripper Owens, has recorded his first solo effort. 'Toy Empires' is the title of the ten track opus, which can be described as being between hard rock and classical heavy metal. Progressive influences are just as recognizable as are influences to his style by guitarists such as Gary Moore, Rory Gallagher, Steve Vai, John Petrucci and Pat McManus. 'Toy Empires' is pleasing the listener with its ten cleanly arranged, melodic hardrock/metal songs, and further recommending itself with its strong, great melodies and classical guitar parts.

Prelisten to the album and find direct links for streaming/downloading and buying options HERE!
Tracklisting:
Total playing time 1:03:16
Video Album Trailer
First solo album of the Irish guitarist with influences from Steve Vai to Gary Moore.
Steve McLaughlin is known as the excellent guitarist of the Irish metal band SANDSTONE, as well as of the touring band of Tim Ripper Owens.
Wonderfully arranged heavy metal with a high proportion of melody.
For fans of SANDSTONE to FATES WARNING.
20. April 2018