SANDSTONE – Tides Of Opinion
Remixed Digital Re-Release
Thursday, April 26, 2018
Since forming in 2003, SANDSTONE have been a favourite on the Northern Ireland pub and festival circuit, building a solid fan base. Known for their high energy and tight performances, the band have already toured the mainland on the back of this reputation. From Power Ballads to Prog Rock Epics, the band comprise of accomplished musicians with a maturity that flows with ease.
Following the success of their debut EP "Life Giving Sun" the band hit the road, winning the top prize at the Hammersmith battle of the bands along the way, and writing constantly, putting the final touches to the material that would make up their first full album 'Tides of Opinion', a slice of classic style hard-rock executed with confidence and power.
Enjoy this fully remixed and remastered piece of history, which is now available as digital download and includes three previously unreleased tracks.
Tracklisting:
Total playing time 1:14:59
Video Album Trailer
Re-Release of the thought after debut album.
Remixed and remastered.
Including three previously unreleased tracks.
27. April 2018
STEVIE MCLAUGHLIN – Toy Empires
Tuesday, April 3, 2018
The Irish guitarist Stevie McLaughlin, better known for his riff attacks with the Irish metal band Sandstone and as touring guitarrist for the former Judas Priest/ex-Iced Earth singer Tim Ripper Owens, has recorded his first solo effort. 'Toy Empires' is the title of the ten track opus, which can be described as being between hard rock and classical heavy metal. Progressive influences are just as recognizable as are influences to his style by guitarists such as Gary Moore, Rory Gallagher, Steve Vai, John Petrucci and Pat McManus. 'Toy Empires' is pleasing the listener with its ten cleanly arranged, melodic hardrock/metal songs, and further recommending itself with its strong, great melodies and classical guitar parts.

Prelisten to the album and find direct links for streaming/downloading and buying options HERE!
Tracklisting:
Total playing time 1:03:16
Video Album Trailer
First solo album of the Irish guitarist with influences from Steve Vai to Gary Moore.
Steve McLaughlin is known as the excellent guitarist of the Irish metal band SANDSTONE, as well as of the touring band of Tim Ripper Owens.
Wonderfully arranged heavy metal with a high proportion of melody.
For fans of SANDSTONE to FATES WARNING.
20. April 2018
MASTERS OF DISGUISE – Alpha / Omega
Thursday, September 21, 2017
They are one of the hottest assets the German Speed Metal scene has to offer: MASTERS OF DISGUISE. "Alpha / Omega" is bound to conquer the Metal world. Eleven songs including a mighty cover version of Exciter's "Blackwitch" have been recorded to drive any Speed Metal maniac crazy. The speed smashers seem to have come from a time machine, still, the overall impression is enjoyably fresh and crisp and enthusiastic. MASTERS OF DISGUISE have come up with the third long player in a row that can be called a genuine classic.
Tracklisting:
Total playing time 54:18

Video Album Trailer
Impressive successor to the band's great 2015 album
The third album also offers uncurbed Speed Metal with characteristic '80s features
The CD includes superior cover version of the Exciter classic 'Blackwitch'
Follows the foot steps of US Metal icon Savage Grace
Legendary Speed/Power Metal mix with class and cult appeal
Masters of Disguise consists of seasoned musicians from bands such as Roxxcalibur and Abandoned as well as ex-Viron, ex-Savage Grace and ex-Jameson Raid
20. October 2017
FIREFORCE – Annihilate The Evil
Thursday, August 24, 2017
"The FIREFORCE stage is a real battlefield", the Belgians state with pride, presenting the world with their new album 'Annihilate The Evil', which, like its predecessor, was also recorded under the guidance of Christian Schmid and R.D. Liapakis (Mystic Prophecy). FIREFORCE is without doubt Belgium's biggest and internationally most active power metal band and also fans fans on the heavy metal underground scene. The album is a superb metal statement featuring an artwork by Uwe Jarling, which rounds off a strong third album.
Tracklisting:
Total playing time 50:49
Video Album Trailer
"The Boys From Down Under" video
Generously produced third power metal album appealing to true as well as old school metal fans.
Produced by Mystic Prophecy vocalist R.D.Liapakis (Jack Starr, Suicidal Angels, Steel Prophet, Crystal Tears, etc…).
Tremendous live reputation from the Prog Power Metal Festival and others. Liveshows with Jaguar, Avantasia, Hell, Tygers of Pan Tang, Crimson Glory, etc…
Belgium's greatest heavy metal export.
Musically influenced by bands such as Tygers of Pan Tang, Mystic Prophecy, old Helloween, Running Wild, etc…
Jonas Sanders of PRO PAIN on drums.
01. September 2017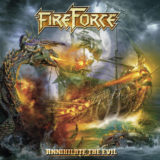 LIONSOUL – Welcome Storm
Thursday, June 15, 2017
Fans of European classical power metal will find ten great metal songs on "Welcome Storm", all of which glowing with impressive power chords and impressive vocals. Now and again certain American influences creep through. LionSoul are definitely a positive exception on the Italian scene – they stay away from the typical scheme of things which take the form of very high vocals, fast riffing and classical-bombastic, exaggerated keyboard parts. "Welcome Storm" is power metal as it should be: heavy, lively, raw and still melodic.
Tracklisting:
Total playing time 46:11
Video Album Trailer
"Next Genesis" video
Second album by the power metal band.
Style in the tradition of European power metal bands with high levels of melodics.
Live shows with Gamma Ray, Iron Savior, Kissin' Dynamite etc.
First class, clear, ass-kicking production setting a perfect base for the twin guitars.
Produced, engineered, mixed & mastered by Alessandro Del Vecchio (Edge Of Forever, Hardline, Graham Bonnet Band, Lionville, Sunstorm).
23. June 2017
FOGALORD – Masters Of War
Tuesday, May 16, 2017
FOGALORDS's 2012 debut, "A Legend To Believe In" was a surprising album of the symphonic-/epic metal genre, which was welcomed with overall positive reviews. Now, five years later, its successor entitled "Masters Of War", is a work with a theme concerning itself with the story of the debut work, a concept album.
"Masters Of War" bursts with classical-epic songwriting, heartfelt choirs, passages influenced by folklore, bagpipes and galopping rhythms, as well as insertions of influences of genres from melodic black metal to heartspeeding power metal bass attacks. Fans of bombastic sounds, supported by galloping riffs and a true fist-in-the-air attitude, will love this album.
Tracklisting:
Total playing time 54:18
Video Album Trailer
"Daughter Of The Morning Light" video
FOGALORD convinced the metal scene with an excellent debut, which was recorded with known guest musicians from e.g. RHAPSODY, ANCIENT BARDS, LABYRINTH etc.
Mature musical concept album which will attract fans of RHAPSODY OF FIRE, MANOWAR, TURISAS, BLIND GUARDIAN, ENSIFERUM and even TYR.
"Masters Of War" has a cutting edge musical concept with tracks ranging from the fast to the folk-like
02. June 2017
DRAGONY – Lords Of The Hunt
Tuesday, March 7, 2017
In 2017, after two successful albums, the band is celebrating its 10th anniversary as well as the fifth birthday of their debut work "Legends". These two events are the motor for Dragony to present their fans with a new MCD – a work which is well worth listening to. On the MCD, entitled "Lords Of The Hunt" there are the great, the rare and some lost and found titles. Apart from two brand new songs, "Lords Of The Hunt" and "Call Of The Wild" you can find newly recorded versions of the debut work's most popular songs, songs which were previously available only as bonus tracks, as well as demo rarities and it also includes the band's two video clips of "Burning Skies" and the David Hasselhoff cover version of "True Survivor".
Tracklisting:
Total playing time 41:15
Video Album Trailer
"Call Of The Wild" Lyric Video
Third release of the Austrian Symphonic Power Metal band (debut album: 6 from 7 points in Metal Hammer magazine).
Brilliant cover version/interpretation of the David Hasselhoff hit "True Survivor"!
Excellent reputation as live band, having toured with e.g. Gamma Ray, support shows with Powerwolf, Primal Fear, Axxis, Blind Guardian, Edenbridge, Paul Di'Anno, Sonata Arctica; festival appearances with e.g. Twisted Sister (Nova Rock).
EP with two new songs, new recordings and rare bonus tracks.
Cover artwork by Dušan Marković (Seven Kingdoms, A Sound Of Thunder, etc…).
07. April 2017
MINOTAURUS – Insolubilis
Tuesday, November 1, 2016
MINOTAURUS have been active since 1994, delivering a unique mixture of Folk, Metal and an unmistakeable dash of originality. Until today, they could look back on eight releases, each of them displaying clear development factors from one to the next, something that has always been recognised by their growing fan base. The development goes a step further with "Insolubilis", their new album in a new, extended line-up. MINOTAURUS work under the motto "create new and keep the tried and tested", which, considering the band's long history, shows wisdom and farsightedness. It is exactly in the realm of Folk Metal, one in which fans orientate themselves explicitly to bands, credibility in an important asset. In the band's own discography the album, "Insolubilis" is an absolute reference point and is certain to carry the band yet further forwards with giant steps. Like the half man, half bull, mythological creature which gave the band its name, MINOTAURUS is pawing the ground, about to charge.

Their fifth long-player, "Insolubilis" took the band once again to the Empire Studios in Bensheim, with Rolf Munkes. Eleven new songs packed into a varied package, offer an impressive mixture of melodies and subjects. With lots of phantasy and humour the tracks transport the listener along an exciting journey to historical and mythological places, visiting sailors and mermaids, witches and ghosts, heroes, kings, princesses and priests, yes, even the legendary minotaur itself, through graveyards, pirate ships, forests, campfires, army camps, ruins and valleys.

Overall the album is harder and the song-writing is clearly more mature. Besides guitar duels so typical of the band, one hears Celtic harps, tin whistle, Tinwhistle, wooden flutes and even a curtal, the forerunner of the bassoon. The Folk influence has been honed and rounds off the overall impression beautifully. Multivocal song lines as well as several very catchy tracks also belong to the order of the day. With their fifth long player, MINOTAURUS has proved that there is still a lot of potential within them. "Insolubilis" confirms this with no doubt whatsoever.
Tracklisting:
Total playing time 49:59
Mature, dynamic, heavy: that is the 2016 MINOTAURUS sound!
Produced by Rolf Munkes (Empire, Crematory, ex-Majesty, Tour guitarist for Tony Martin etc…) in the Empire Studios.
Ancient Epic Metal.
High quality back catalogue with excellent reviews.
11. November 2016