FIREWÖLFE – new album "Conquer All Fear" out in November!
Mittwoch, August 18, 2021
In 2020 founding member/guitarist Nick Layton and bassist Bobby Ferkovich (Pamela Moore, Metal Church, Presto Ballet) sought to put a new powerful version of FIREWÖLFE together after singer David Fefolt left the band. By recruiting Seattle based guitar shredder Michael David (TKO), virtuoso drummer Marco Bicca (Pamela Moore, The Element, A Dying Planet) and Las Vegas based vocalist Freddy Krumins (James Byrd's Atlantis Rising), the band was finally set.

The new album, produced and mastered by Bart Gabriel (Crystal Viper, Jack Starr, Jag Panzer) and mixed by Cederick Forsberg (Blazon Stone), is a tour de force in Melodic US Molten Metal, featuring heavy riffs, melodic choruses, a thunderous rhythm section and ripping dual guitar solos. Fans of the bands first two albums will be thrilled to find an album full of great songs, hooks and performances, and will love how new vocalist Freddy Krumins has put his own unique melodic stamp on the bands sound.

The amazing artwork by Dusan Markovic sets the mood for this powerhouse of an album, to be released on November 19th, 2021.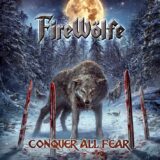 WONDERS – debut album in November
Freitag, August 13, 2021
During 2020, the brothers Pietro Paolo and Giorgio Lunesu of Even Flow started a new collaboration with producer and keyboardist Bob Katsionis, resulting in the birth of WONDERS – a new band in the European Melodic Power Metal scene.

WONDERS' debut album "The Fragments Of Wonder", produced by Bob Katsionis (ex-Firewind, ex-Serious Black, ex-Revolution Renaissance, Outloud, Warrior Path), is an absolute masterpiece, where the vocal melodies delivered by Marco Pastorino (Temperance, Cristiano Filippini's FLAMES OF HEAVEN, Virtual Symmetry, ex-Secret Sphere) and the rhythmic power-/progressive metal perfectly executed by the band intertwine harmoniously, resulting in a fantastic sound experience for the listener.

Finally the artwork by Gustavo Sazes (Amaranthe, Angra, James La Brie, Dynazty, Firewind, Sirenia) adds the finishing touch to the concept of the album.

WONDERS are:
Marco Pastorino – Vocals
Pietro Paolo Lunesu – Guitars
Luca Negro – Bass Guitar
Bob Katsionis – Keys
Giorgio Lunesu – Drums

Release date: November 12th, 2021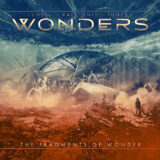 DANIELE MAZZA – Teaser out now
Donnerstag, August 12, 2021
A new epic adventure is about to begin!

This is the teaser for the upcoming Epic Cinematic Filmscore solo album "IMMORTALS", composed and produced by Daniele Mazza, with guest appereances by Sara Squadrani and Claudio Pietronik, all of ANCIENT BARDS fame.

"IMMORTALS" will be out on October 29th on CD, which will include a bonus track, and on all major digital platforms.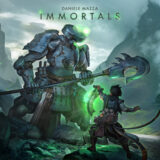 SANDSTONE – new album on the way
Donnerstag, August 5, 2021
New SANDSTONE album entitled "Epsilon Sky" out on November 5th, 2021!

You can't keep a good thing down! After the release of their seminal 4th album "Delta Viridian" in 2013, and extensive touring, SANDSTONE took a break to get back to basics and re-imagine the band going forward. Presented here is a collection of dark brooding songs that represent a heavier, more sonically coherent, and more confident band.

Sit back and take a listen to the song writing intensity and maturity of a band that aren't afraid to ignore the current trends in the music industry and go wherever their artistic vision takes them.

The result: an album for fans of deep thoughtful songs with tasteful and aggressive performances. All packaged up in a tight, all killer – no filler compact gut punch of an album that harks back to the melodic storytelling traditions of their Celtic homeland, forged in an alloy of metal, hard rock and progressive tendencies.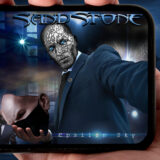 Limb Music is proud to announce "Immortals" by DANIELE MAZZA (ANCIENT BARDS)
Donnerstag, Juli 29, 2021
This album will be different from what you would normally expect from us, but we just could not pass it. So without further ado, let us see what the artist has to say.

A message from Daniele:
"While I'm putting the finishing touches to the compositions and orchestrations of Ancient Bards' fifth album, I am extremely excited to announce the release of my first solo album IMMORTALS!

It's going to be an orchestral, epic, cinematic album that will also feature my trusted fellow bards Sara Squadrani and Claudio Pietronik, as well as Chiara Di Mare. Ideal for fans of Ancient Bards, Two Steps From Hell, Hans Zimmer, Film Music, and Trailer Music.

IMMORTALS (produced and mixed by Daniele Mazza, mastered by Simone Mularoni, artwork by Vincent Lefevre) will be available on all digital platforms starting October 29th, 2021.

You can expect more news coming up from me and the Bards, so don't roam too far!"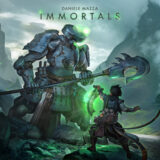 Cristiano Filippini's FLAMES OF HEAVEN new video out now!
Freitag, März 5, 2021
"Against The Hellfire" is the third single and the first lyric video taken from Cristiano Filippini's Flames Of Heaven album "The Force Within".

The song is a perfect mix of epic metal and synthwave, where huge and majestic keyboards will bring you to a futuristic dangerous world. Hold your sword and be careful… – a lot of enemies are waiting for you behind the imposing shining skyscrapers.

You can hear the audio version on all your favourite platforms, or click HERE for more information.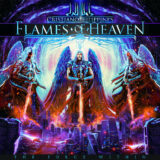 MINOTAURUS album back in stores
Dienstag, Februar 9, 2021
The Ancient Epic Folk Metal band MINOTAURUS from Germany celebrates the 25th Anniversary with their latest album "Victims Of The Underworld".

The CD version of the album incl. one CD only bonus track is available in the shops again. Find sound snippets and info about where to buy/stream it here.

Here's the video for the title track "Victims Of The Underworld".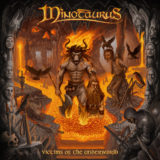 MEMORIES OF OLD album back in stores
Montag, Februar 8, 2021
MEMORIES OF OLD recent album "The Zeramin Game" is available in the stores again.

The well received Epic Symphonic Power Metal debut album featuring Tommy Johansson (Sabaton, Majestica, ReinXeed) on vocals can be ordered from your local record shop again.


In case you are undecided yet, find sound snippets and info about where to buy/stream it here.

Check out their video "The Land of Xia".