10 years of Limb Music Spotify highlights playlist available
Dienstag, März 5, 2019
These are – at this point – the most played songs on Spotify of each Limb Music album in the last 10 years in chronological order of the releases. The playlist to date contains 59 songs and almost 5 hours of playing time. So if you ever wondered what Limb bands other people like, or are just curious and/or looking for some old favorites – or new music here you go:


You can use the free version of Spotify to listen to the playlist.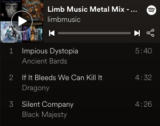 ANCIENT BARDS – Origine (The Black Crystal Sword Saga Part 2)
Donnerstag, Januar 24, 2019
The Italian Bombastic/Symphonic Power Metal band around the strongly-voiced front lady Sara Squadrani always went its own way, but they really go to town on their fourth album "Origine (The Black Crystal Sword Saga Part 2)". Their symphonic/epic Metal is cleanly thought through, exceedingly well played and the listener notices ANCIENT BARDS' enjoyment and conviction of what they do.

With "Origine", ANCIENT BARDS once again presents an album which not only shows the rademarks of the band, but one which has all the feelings of a cinema soundtrack. Once again they have taken a step forward with their epic influences, strengthened the orchestral parts and combined it with racing guitars to a distinctive mixture. Sara's voice tops off the tracks with all her vocal diversity. The quality of vocalist Sara's ability had, by now, reached Holland and Arjen Anthony Lucassen invited her, alongside a star-studded guestlist, to participate on his album "The Theory Of Everything".

Choose your favorite streaming service or find a place to purchase the album at: ANCIENT BARDS "Origine (The Black Crystal Sword Saga Part 2)"

Tracklisting:
Total playing time 62:35
For fans of Nightwish, Within Temptation, Rhapsody Of Fire, Epica, Delain and Edenbridge.
Live experience with Turisas, White Skull, Almah, Domine, Heidevolk, Korpiklaani, Eluveitie, etc…; Festival performances in Wacken, Made of Metal, Female Voice Metal Festival.
Epic-melodic, classical-bombastic arrangements wrapped in an excellent sound.
Thematically high quality story line together with sophisticated songwriting.
Worldwide superb reviews given to their first three albums.
Vocalist Sara Squadrani was an invited guest on Arjen Anthony Lucassen last studio opus.
CD only bonus track.
25. January 2019
ANCIENT BARDS first single and video release
Freitag, Dezember 14, 2018
"Impious Dystopia", the first single from the new Ancient Bards album "Origine – The Black Crystal Sword Saga Part 2" which will be released on January 25th 2019, is available as of today! Along with the single, the band has released an epic video for you to enjoy:


Origine (The Black Crystal
Sword Saga Part 2)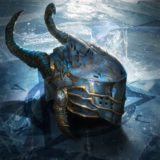 Freitag, November 30, 2018
Hey there knights! Any plans for December 14th?
Stay tuned…
Origine (The Black Crystal
Sword Saga Part 2)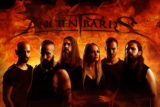 STEVIE MCLAUGHLIN releases "Immortal Rose" video
Donnerstag, November 22, 2018
In this video STEVIE MCLAUGHLIN finally reveals how he was able to kill it on each and every instrument on the album: clones! – Read kill it with clones, NOT Killer Clowns!

This song of the Irish guitarist, better known for his riff attacks with the Irish metal band Sandstone and as touring guitarrist for the former Judas Priest/ex-Iced Earth singer Tim Ripper Owens, has been taken from his first solo effort "Toy Empires".


Toy Empires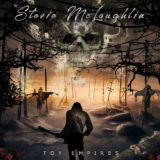 ANCIENT BARDS reveal tracklist of their upcoming release
Freitag, November 9, 2018
"Origine – The Black Crystal Sword Saga Part 2" will be released on January 25th, 2019, and will enclose ten epic songs plus one CD only bonus track.

The Deluxe Edition, sold only through Ancient Bards' successful crowdfunding campaign, will consist of the 10 tracks in both full band, as well as orchestral versions.

TRACKLIST:
01. Origine
02. Impious Dystopia
03. Fantasy's Wings
04. Aureum Legacy
05. Light
06. Oscurità
07. Titanism
08. The Hollow
09. Home of the Rejects
10. The Great Divide

CD only bonus track:
11. Eredità Aurea
Origine (The Black Crystal
Sword Saga Part 2)

New ANCIENT BARDS album release announced
Freitag, November 2, 2018
The long-awaited new installment of The Black Crystal Sword Saga will be released on January 25th, 2019.

Symphonic metallers Ancient Bards are back with a new, exciting chapter of The Black Crystal Sword Saga. Origine is everything you've been waiting for: heavy riffs, breathtaking solos, pompous orchestrations and the unmistakable powerful voice of Sara will capture you and take you to the magic lands of symphony in a journey so extraordinary it'll be worth the wait.
Trailer music © Daniele Mazza 2018, all rights reserved
Origine (The Black Crystal
Sword Saga Part 2)
HAPPY HALLOWEEN everybody!
Mittwoch, Oktober 31, 2018
This years treat is STEVIE MCLAUGHLIN's new "Toy Empires" video for the title track of his solo album. – Enjoy!

Toy Empires